Great first day in Calgary. 127 attendees on the ground, all talking about how to revolutionize their business processes and get rid of paper.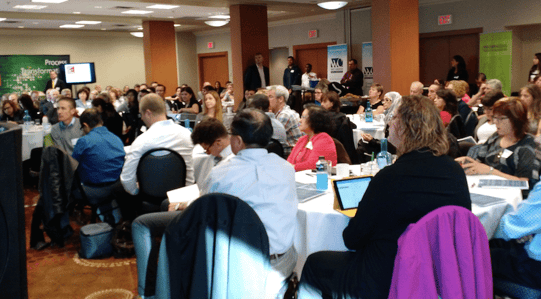 Some of the my favorite slides from the presentations...
Here's one from RICOH -- showing the impact of paper elimination and process tranformation on the performance of some sample business processes: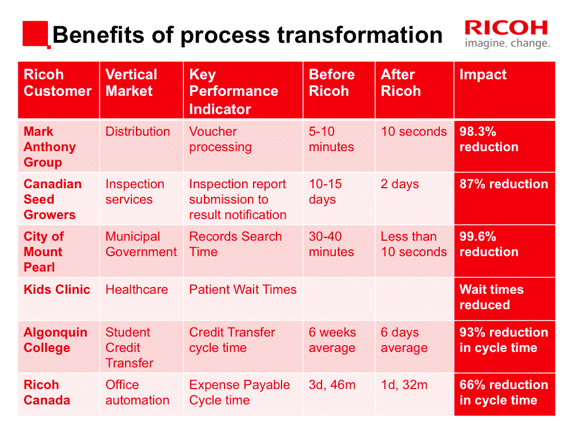 Pam Doyle from Fujitsu -- the education sponsor for the series -- covered the "Perfect Storm" that is occuring in the content management world.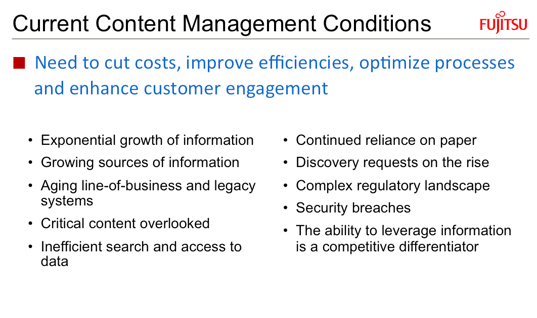 TAB Records Management featured a powerpoint-less presentation, and urged attendees to be much more aggressive and proscriptive in eliminating paper from their business processes.
Dave McMillan from West Canadian urged attendees to adopt a consistent methodology to address process improvement projects:
Lastly, Rob Hanna from Precision Content made the point that organization that wish to repurpose content and make it findable, usable, and reusable need to think about the content creation process: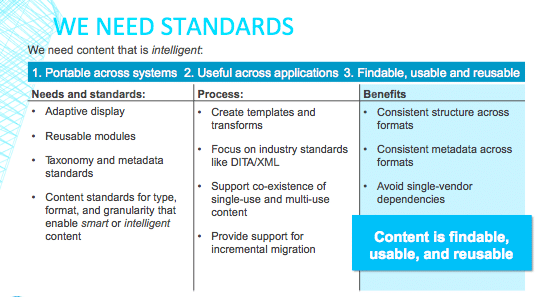 Many thanks to ALL the attendees, but especially those from the end-user organizations in attendance -- many organizations sent multiple people -- who are just beginning their process transformation journey -- or are rethinking some of their past assumptions. Thanks so much.
Alberta College of Pharmacists - Alberta Education - Alberta Energy Regulator - Alberta Health Services - Altalink Management Ltd - ARC Resources Ltd. - ATB Financial - Athabasca University - Bennett Jones LLP - Bona Vista Energy - Bonavista Energy - Brookfield Residential - Burnet Duckworth & Palmer - Calgary Board of Education - Canadian Association of Petroleum Producers - Canadian Natural Resources Limited - Canexus - Cenovus Energy Inc. - Christ The Redeemer - City of Brooks - City of Calgary - Covenant Health - Enbridge - Encana Services Company Ltd - ENMAX Power Corporation - Gibson Energy - Government of Alberta - Gran Tierra - Husky Energy - Imperial Oil - Kinder Morgan Canada - Lacombe County - Osum Oil Sands Corporation - PAA Corporation - Pembina Pipelines - Service Alberta - Service Now - Sherritt International - Simplified Methods Inc. - Statoil Canada Ltd. - Sturgeon County - Suncor Energy Inc. - Talisman Energy Inc - The Alberta Securities Commission - The City of Camrose - The Law Society of Alberta - TransCanada Corporation - University of Calgary - University of Lethbridge - Veresen Inc. - Victoria's Secret - Wood Group Mustang
We've begun a tradition of gathering the "AIIM Tribe" - our professional members - for a photo. A pretty good looking bunch: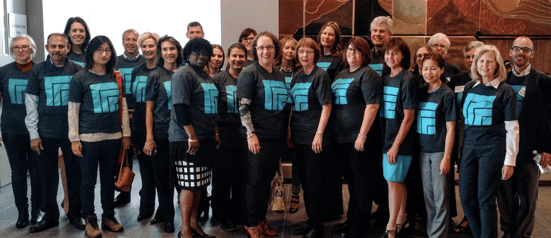 -----

Come to our free seminar on going paper-free and process transformation. Coming to a city near you!

Free AIIM Seminar - in your city!

Anaheim -- Chicago -- Houston -- Minneapolis -- New York -- San Francisco -- Toronto --Washington