Per AIIM's recent Content Management 2020 report, the times they are a changing for content management. The industry we have known as "ECM" (Enterprise Content Management) is morphing into something very different than it has been.
There is more "content" than ever before – in exponentially increasing volumes and in a host of new forms. Defining what exactly "content" is – and how it is different from data – is becoming more and more problematic. Managing this "content" is becoming more critical than ever before to business success. The focus of content management has shifted from document and content specialists – a tiny subset of people in most organizations – to a broad base of knowledge workers struggling with complex, content-intensive, and often ad-hoc processes.
And most importantly, there are far more "flavors" of content management solutions than ever before. There are the traditional ECM solutions, with their roots in transactionally focused, large-volume, mission critical content processes. A lot of these solutions are now part of a suite of information management capabilities that range far beyond ECM and increasingly manifest themselves as adaptive case management. There are all the sync and share content solutions that provide "good enough" ECM for many organizations. There are ECM solutions that start with legal processes like e-discovery and have compliance and information control at their core. And a host of other "flavors" and combinations of these flavors. [Note: I can see a series of blog posts coming!]
Moving from Managed Print Services to Managed Content Services
Some of the most interesting recent entrants to the ECM space come from companies looking to move from Managed Print Services (MPS) to Managed Content Services (MCS). These include companies like Lexmark, Xerox, HP, Konica-Minolta, Ricoh, Canon, Kyocera, and Toshiba. (I'm sure I'm leaving some out – if I am, add them as a comment and I'll refresh this list.)
This market transition is still in its early stages. Per Gartner, "Although some services and solutions that fall under MCS have been in the field for five to 10 years, MCS is still an early stage service offering."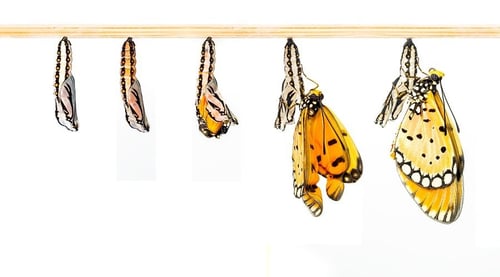 In some ways, Lexmark has become the poster child for this segment of the industry, and especially so with the recent acquisition of Kofax. Consider some of their acquisitions over the past five years: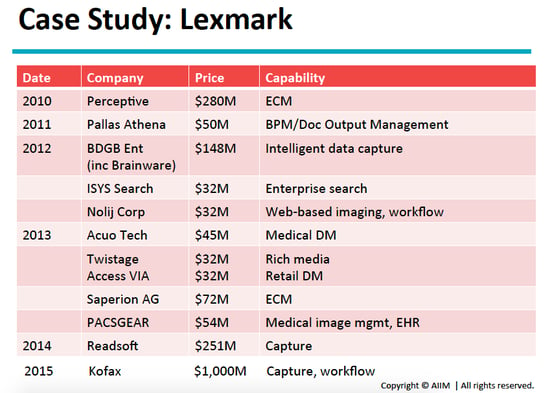 Of course, this "flavor" of content management is more than just the hardware (becoming software) vendors. It also carries with it a massive channel of copier dealers and distributors – a channel many times larger than the traditional ECM channel. IDC pegs just the small/medium business portion of the worldwide Managed Print Services market at $13 billion. With a B.
This transition from MPS to MCS is easier said than done. Hardware companies do not become software companies just by saying it is now their "strategy." Channel partners focused on selling hardware to office managers do not become solution partners to IT and line of business executives simply by wishing it. Per Darrell Amy of DealerMarketing, "Customers are confused. Sales reps are confused. Marketing is chaotic."
I think there are three basic market strategies for the vendors and their channel partners in this Managed Content Services segment: 1) target business leaders with a top down process assessment; 2) target knowledge workers with viral tools to build critical mass from the ground up (in the same vein as that taken by the enterprise file sync and share players); and 3) target IT executives by making a cost rationalization and infrastructure argument.
At the core of these market strategies is a need for greater training and market education – for the key vendors AND their channel partners. Peter Drucker used to say that, "Culture eats strategy for breakfast." That has never been more true than for those companies trying to migrate from management print services to managed content services, especially since so many of the players have been SO successful in the former. Changing behavior is never easy, but it is especially difficult when trying to change behavior that has been successful.
My colleague Atle Skjekkeland has built a very interesting presentation exploring these three options. Check it out HERE and find out more about AIIM Sales Enablement Training and the challenges of transitioning from print services to content services.