Join us for this informative webinar on




Tuesday, August 10, 2021




11:00 am - 12:00 pm EST (GMT-4)

10 am CST; 9 am MST; 8 am PST
4 pm British Time (GMT+1); 5 pm Central Europe Time (GMT +2)

Historically, RM has been about minimizing risk and, to lesser extent, reducing costs. While those are laudable, they don't bring joy to the CEO's eye. How can you show that good RM and IM actually enables the business?


This webinar is approved for .5 hour of CIP Maintenance Credits.
Host for this event: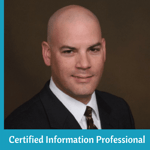 Jesse Wilkins
VP, Training & Certification
AIIM