Join us for this informative webinar on
Thursday, October 21, 2021
11:00-11:30 am EST (GMT-4)
10 am CST; 9 am MST; 8 am PST
4 pm British Time (GMT+1); 5 pm Central Europe Time (GMT +2)
---
Join us and your AIIM peers for a recap of the AIIM21 presentation with a live Q&A with our presenter.

The mission: to digitize court papers resulting from the 1994 Genocide against the Tutsi in Rwanda. The challenge: attempting large-volume conversion in an archive setting; unchartered territory. The approach: using local sources, the project team employed problem-solving techniques and open-source workflow technology to organize, categorize, over 40 million pages of court documentation.


This webinar is approved for .5 hour of CIP Maintenance Credits.
Speaker for this event: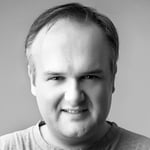 Geoff Laycock
CEO
Scan Data Experts
Geoff Laycock is the CEO and founder of the independent digitization and information management consultancy firm Scan Data Experts. Geoff has been working in the commercial and public sectors for over 20 years designing and implementing a wide range of digitization projects. Formerly the senior consultant for HEDS (the Higher Education Digitisation Service) Geoff has worked on many large scale digitization projects including, NHS Medical records mass digitization, complex data extraction from legacy paper and microfilm collections, and heritage projects such as the Old Bailey Online, the Hansard Archive and the digitization of the Design Museum Collection. Geoff is a specialist in digital imaging, project design, and the use of metadata with database systems to deliver open-access digital content online.