What can cats teach us about Business Process Improvement?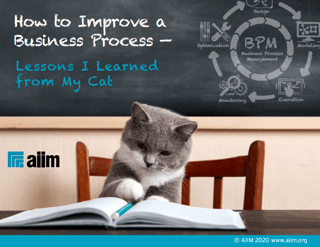 Process improvement is a way of life. In order to remain viable, organizations have to be continuously improving to provide a better experience to their customers. When organizations do not improve, they become stagnant and are less competitive in their market.
But, how do you improve a business process?
In this ebook, we take a light-hearted yet educational look at Business Process Improvement as it relates to a business/customer relationship through the lens of a cat and its owner. You'll learn:
How to identify a process to change.
What questions to ask.
Streamlining vs. Reengineering
Continuous Process Improvement