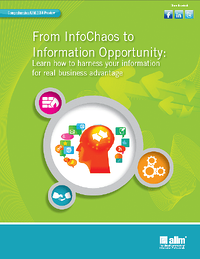 Do you understand what Information Chaos is doing to your organization? Do you understand the opportunities for your business in the midst of this chaos?
It's not just us saying it.
As Tara Dragon of Swingal Consulting says: "I'm going to AIIM14 because I want to learn from and meet the industry's thought leaders on information management, governance and social. I love AIIM because it is vendor neutral and won't be a big product push like I would get at vendor-initiated conferences."
The ebook is filled with:
Insight from keynote speakers: AIIM President John Mancini explains #InfoChaos; Futurist Thornton May talks SMAC-stack; Governance with Grant Thornton's Johhny Lee; and Alan Pelz-Sharpe, 451 Group, details content fragmentation.
80 pages packed with ideas and best practices for putting your content to work:

Walking with the Clouds
Zero-based information governance
Developing knowledge
The dangers of casual capturers
How to create a file plan for SharePoint 2013
Stop reading this list, fill in the short form to the right, and download now!