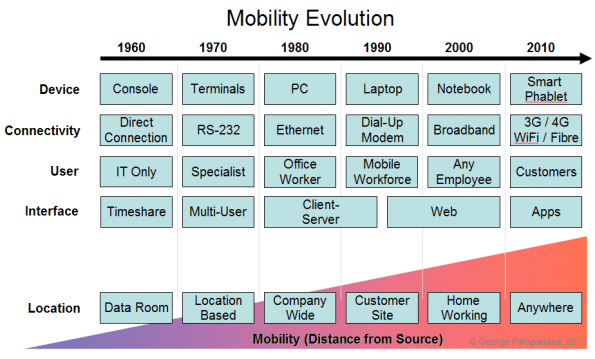 Smartphones are now everywhere. It is estimated that 4.2 Billion people have a toothbrush, but 5.1 Billion people have a mobile phone subscription. They are always on, always improving, and always connected to the internet and to the cloud (unless you are an AT&T customer…).
Anybody remember WordPerfect? They went from being a market leader to almost irrelevant in 2 years when the platform changed from DOS to Windows. Does your company risk this when the platform changes to mobile? Even Microsoft is now a "Mobile First, Cloud First" company according to their new CEO Satya Nadella. The reality is that when the platform changes, the leaders change.
My friend George Parapadakis from IBM created the below chart to explain how mobile is your new reality. You can read more about this on his blog.
Read More