Happy 4th of July and welcome to my new blog. I have decided to start blogging again to better share some of the discussions I have with AIIM members, industry analysts and thought-leaders. Please subscribe to be notified about new blog posts.
I will in this first post try to share with you some thoughts about why you should care about digital business. The leading analysts believe organizations have to become digital businesses to serve digital-first customers. Adding eCommernce to a traditional business will not be sufficient, you need to strategically leverage technology and information to survive.
The Internet of Things with connected devices, wearable technologies, and sensors will change the game for many businesses over the next 5 years. You will get real-time information about product usage and customer behavior that can be used to increase sales, customer loyalty, and rate of innovations.
Information is at the core of this business transformation. New system of engagement needs to be connected to established system of records to provide insights and value.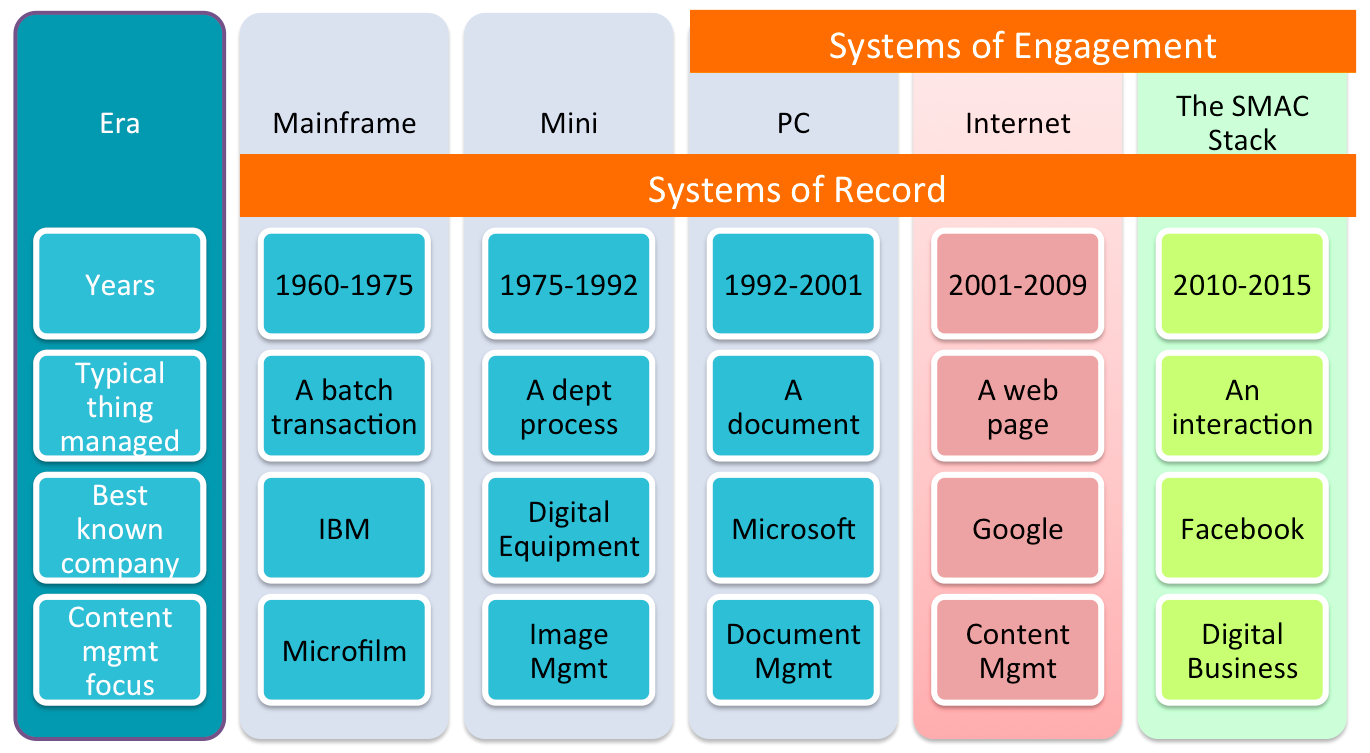 Connected devices and information about buyers, products, and suppliers can be used to create a new reality/disrupt markets, add value, reduce costs, and manage risks. Below are a few examples of this from AIIM members, Forrester, and Constellation Group:
Create new reality:
Uber allows you to use your phone to find, book, and pay taxi and limo drivers near you
Feastly turns cooks' homes into supper clubs. You can eat at people's home. The chef may be a professional or just a talented amateurs
AirBnB turns homes into hotels. Rent from people in over 34,000 cities and 192 countries
Intel's Jarvis headset listens to voice commands and takes action. Imagine if the next generation headset would listen to everything you say or hear, look up what it hears, and then whisper the answer in your ear…
Add value:
NEST - a smart learning thermostat for your home. Just acquired by Google for $3.2 billion.
American Eagle Outfitters is planning to use Apple iBeacon to track shopper behavior in 100 stores in real time, allowing it to personalize the shoppers' experience of the stores.
Kolibree, an upstart connected-device manufacturer claims its toothbrush acts like a Wii remote, capturing brushing patterns and providing guidance on better dental hygiene.
Amazon claims 35 percent of product sales result from recommendations. Many customers don't know what they are looking for.
Reduce costs:
Rolls Royce is using realtime data from its jet engines to lease "hours of propulsion" to its airline customers. This reduces the cost to the airline and the impact of out of service planes on its customers.
BMW's DriveNow mobile app gives 60,000 subscribers access to more than 1,000 vehicles across six cities, changing the way they pay for transportation.
Amazon is reducing shipping times by using machine algorithms to preship products to local warehouses in anticipation of a customer's order.
Manage risks:
American Apparel achieves close to 100% stock accuracy across its stores with RFID technology.
T-Mobile - in the first quarter of 2011, T-Mobile halved its churn rate in the United States by predicting customer behavior. They analyzed historical and current data, extracting key data for decision making, and discovered hidden relationships and patterns.
Do you have any other good examples? Please share them and lets together start defining best practices for digital business.