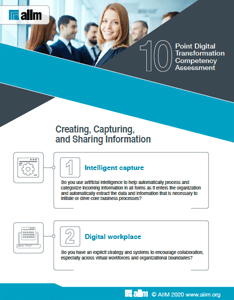 AIIM recommends 3 steps to build your Intelligent Information Management (IIM) strategy that will act as the foundation for Digital Transformation competency:
Identify your organization's current state. This will help in setting baselines as part of success measurements and identify what is needed across the organization.
Do a review of the organizational environment. Identify the behaviors that need improvement, understand what support will be available to the IM team for various project phases and activities, and document what tools and processes are currently in place. Documenting this insight into the current environment will help get clarity on the scope of work and change needed to achieve the third element – the desired future state.
Document the future state. Make this a collaborative, iterative activity, defining the model with ongoing consultation of stakeholders.
To begin this task, download this FREE 10-point checklist to quickly understand your current strengths and weaknesses in each area, identify how these capabilities tie to each other, and build a vivid picture of your desired future state.