digital transformation, | pdf | podcast
Ask any builder and they'll probably tell you that the strength of a building lies in its foundation. It's the portion of the building upon which the entire structure sits – meaning without a solid foundation, a building or home won't stand the test of time and can actually be dangerous to its occupants.
AI | Artificial Intelligence | deep learning | digital transformation, | machine learning | podcast
No matter where you turn, it seems you can't help but run into discussion about Artificial Intelligence being the future of Intelligent Information Management. In fact, when we surveyed the AIIM Community about it and found that: 81% of organizations reported that Deep Learning and Machine Learning are key to their future technology and business planning.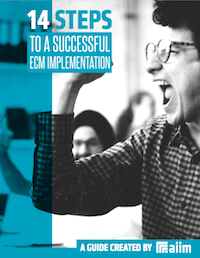 14 Steps to a Successful ECM Implementation
Making an ECM implementation successful requires planning and attention to detail. The best way to create the right solution is to identify organizational goals and priorities. Learn how to manage a successful implementation in our free guide.
content management | ecm | intelligent automation | modernization | rpa
Intelligent Automation requires both a top-down and a down-up strategy and the proper content capabilities to drive this strategy.
AI | AIIM19 | Artificial Intelligence | digital transformation, | intelligent information management
AIIM19 is only a short time away and information management professionals from around the world will converge in San Diego for three days of sessions, sharing and fun. But what can you expect this year? In this continuing series of AIIM19 session previews we get a taste of what's to come. I spoke recently with Angela Watt about her session, co-hosted with Emily Speight, titled "Absolute Intelligence: Taking the Artificial out of AI," and I asked her to briefly summarize the topics.
AI | AIIM19 | Artificial Intelligence | digital transformation, | intelligent information management
There are some important sessions planned for AIIM19 this year. Topics range from artificial intelligence to business process automation and data analytics and beyond. But none will be more informative than a session planned by David Jacopille from Massachusetts Financial Services titled "Bot Bootcamp: How to Manage Your Artificial Employees." I spoke recently with David and asked him to give us a preview of what to expect.
content management | digital disruption | ecm | information management | modernization
The combination of cloud technologies plus mobile is a volatile one when it comes to the sustainability of existing organizations. We've never before been in a disruptive environment quite like this one, and it demands much more agile approaches to IT. Established incumbents are being challenged on every front. Consider the following: