Document Management | Robotic Process Automation (RPA)
The Difference Between Intelligent Document Processing and RPA — Or Is There One? For many businesses, content and data capture tools are highly sought out, particularly in the banking and insurance sectors. With so many different types of documents required to operate and adhere to compliances, the need for capturing data accurately and quickly, especially unstructured data, is ever growing. As a result, businesses are looking at sophisticated data capture solutions to achieve this. For a while, the biggest player was intelligent document processing (IDP), which used to be known as "capture." However, now robotic process automation (RPA) is matching the features IDP tools offer and throwing their hat into the data capture ring.
Understanding the Key Factors that Affect How Much Document Automation You Can Achieve When the word "automation" is brought up in a conversation, most people think of something that is completely handed over to machines. And that scenario can be true if the tasks involve very straightforward, highly repetitive work with little variance. Think of processes like provisioning an email account for a new employee and you'll get the idea. When it comes to automation of document tasks, while it is relatively easy to convert paper into images or to make resulting images of documents searchable, it is quite another thing to take unstructured document-based information and comprehensibly convert it into highly reliable, structured, and usable data. All of a sudden, aspects of a project or organization's requirements that appear to be very straightforward begin to take on more ambiguity when it comes to assessing just how much automation can be achieved.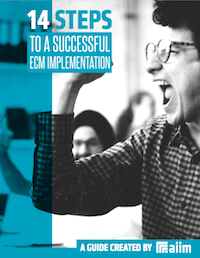 14 Steps to a Successful ECM Implementation
Making an ECM implementation successful requires planning and attention to detail. The best way to create the right solution is to identify organizational goals and priorities. Learn how to manage a successful implementation in our free guide.
With SharePoint now included in Enterprise Microsoft 365 subscriptions, it is now more accessible than ever before. It is tempting for organizations to just jump right in and start setting it up without much forethought. SharePoint, however, is a sophisticated content management system. As a leader in the content management space, it offers a robust set of capabilities. That depth and breadth of functionality works best with considerate planning up front for how you're going to use it. SharePoint also has deep integrations throughout the Microsoft 365 ecosystem. Learning how different services and applications work together can mean the difference between a successful implementation and a stagnant one.
The shift to remote work has significantly impacted how organizations manage information. We sat down recently with Adam Storch, Vice President of Business Solutions, Micro Strategies, to discuss the effect advancing technology and the move to hybrid workplaces have had on information management.
The unprecedented COVID-19 pandemic has, almost overnight, forced many organizations to modify their business practices and transition to a remote workforce. Of course, the first focus during this transition is deploying the connectivity and infrastructure necessary to support your remote workers. Don't, however, lose sight of the fact that information scattered across a dispersed workforce can significantly raise the risk of a data breach or other security concerns.
The COVID-19 pandemic crisis has changed most everything. Technology, social, and cultural disruptions have forced organizations to shift rapidly, expanding remote work capabilities. As we approach the post-pandemic era, a new normal has emerged in workstyles. Businesses now look to foster and enable a hybrid workplace. With this massive transition underway, many organizations struggle to maximize productivity and resilience while building a seamless and secure digital workplace.