On this episode of the AIIM on Air Podcast, your host Kevin Craine dives into the world of Intelligent Information Management in the Utilities Industry continuing the series of "I Am AIIM" member interviews. Kevin chats with two AIIM members from the Utilities Industry – Joanna Hammerschmidt, an Information Management Coordinator at a public water utility in Kansas City and John Daly, an Information Governance Manager for the Metropolitan St Louis Sewer District.
Electronic Records Management (ERM)
It's become trite to note the speed at which technology changes, and that the speed of those changes continues to increase. But just because it's trite doesn't mean it's not true. This means that, for records managers to continue to remain relevant, we need to ensure that we are on top of new developments in records and information management that will significantly impact our organizations. I wrote about individual professional development plans in another post. In that post I make the case that information professionals need to develop and maintain knowledge and skills in three areas: information management foundations, their industry domain, and professional or "soft" skills. I should probably add a fourth – information management technology and how it applies to a particular role or function. For the remainder of this post, I'm going to identify what I believe to be the most important skills records managers need to have in that domain, and then some brief additional suggestions.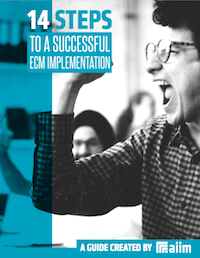 14 Steps to a Successful ECM Implementation
Making an ECM implementation successful requires planning and attention to detail. The best way to create the right solution is to identify organizational goals and priorities. Learn how to manage a successful implementation in our free guide.
There is a lot of interest and discussion about the cloud these days— and for good reason. As business leaders and department heads identify impediments to their teams' effectiveness, they are beginning to recognize that the cloud is not just about storage; it's about flexibility, process improvement, and savings. But it will take a balanced perspective to cash in. As with any important business decision, a crucial step is to weigh the pros and cons to determine its suitability for your unique use case. Here is a list to get you started:
Over the course of several years, Kevin Craine has interviewed hundreds of folks in Information Management for the AIIM on Air podcast. There are a few questions Kevin loves to ask his guests: What's your biggest challenge right now? What's the one thing keeping you from truly innovating at your job? What is the single most significant barrier to digital transformation at your company?
Capture and Imaging | Intelligent Information Management (IIM)
According to AIIM research, 75% of the organizations we surveyed view digital transformation as "important" or "very important" to their organization. Survey respondents point to techniques like advanced data capture, machine learning, and process automation to provide the powerful potential to reengineer and improve core business processes. The trouble, however, is that that the majority of information capture and content management solutions on the market have been built to work with highly-structured and pre-determined information and workflows. Feedback from our AIIM community of practitioners tells us that working with unstructured information is one of the biggest barriers to digital transformation.
Capture and Imaging | Intelligent Information Management (IIM) | Robotic Process Automation (RPA)
There is a growing disconnect in organizations between their desire for process automation and the information that is needed to drive those processes. 54% of the information needed within a particular business application is stored within the application itself rather than within a dedicated content repository, a percentage that has remained remarkably consistent over the past five years.