information security | internet of things | security
IoT, or the Internet of Things, is a grand ambition of the most influential kind. It is a unified goal that seeks to create an internet age of unity and equality that we may not ever see in any other industry. In this article, we will explain why cybersecurity will save IoT and let us progress well into the future with greatly reduced hazard.
digital transformation, | human resources
Interviewing full stack developers can be a difficult job. As an interviewer, you'll need to assess personality, technical proficiency, and work ethic all at once. While you may have rounds of interviews to accomplish this, it's best to establish as much as you can within the first interview. How do you accomplish this for a technical interview? How do you interview full stack developers effectively? There are plenty of ways to conduct an interview successfully, so there's not one single format that's guaranteed to work or fail one hundred percent of the time. However, there are some tips and tricks you can employ to ensure your full stack developer interview goes as smoothly as possible.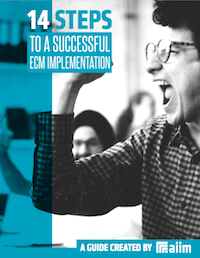 14 Steps to a Successful ECM Implementation
Making an ECM implementation successful requires planning and attention to detail. The best way to create the right solution is to identify organizational goals and priorities. Learn how to manage a successful implementation in our free guide.
Project Planning | project management
Skilled project managers are the glue that keeps your team together. Without the shrewd judgment of an experienced project leader, your team is doomed to wander aimlessly from objective to objective with lowering morale, rising costs, and mounting hurdles.
Following on from our previous article where we identified how digital disruption is breeding new roles in the project and business landscape. We are now going to focus on the hands-on Digital Project Sponsor.
automation | digital processes | document management | human resources | intelligent information management
Are your Human Resources processes intelligent? Before you try and answer that, let me explain more about what I mean.
digitization | ecm | intelligent information management
A new year gives us the chance to reflect on all we've accomplished and set our sights on new challenges to conquer. If you haven't embarked on your Digital Transformation journey, this is the perfect time to begin.