We have an information dilemma on our hands at AIIM. Starting the year, we believed that 2023 is the 80th anniversary of AIIM. We have several blog posts referencing 1943 as AIIM's founding date. In fact, we celebrated our 75th anniversary just five years ago. 2023 must be our 80th anniversary, right?
Data Management | Enterprise Content Management (ECM) | Intelligent Information Management (IIM)
This is an article about names and whether or not they matter. My first intuition was to open with the quote, "What's in a name? That which we call a rose by any other name would smell just as sweet," but I thought better of it. Not because it was too cliche, which it was, but because it immediately transported me back to my sophomore year of high school, when the greatest achievement of my life up to that point was winning the role of Romeo in the drama club's production of Romeo and Juliet. Please spare me the reminder of my nerdy teenage years! Anyway, onto the matter at hand. The purpose of this article is to begin a conversation about data and content and whether or not the long-held distinction between the two is still important. I'm admitting to you upfront that I don't have the answer. Instead, I only aim to share what I know.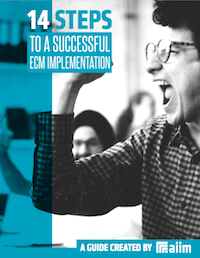 14 Steps to a Successful ECM Implementation
Making an ECM implementation successful requires planning and attention to detail. The best way to create the right solution is to identify organizational goals and priorities. Learn how to manage a successful implementation in our free guide.
Take a deep breath. This is another article about ChatGPT and Generative AI. I'll be honest. I am the type of person that struggles to resist a good hype cycle. In 2021, I couldn't stop talking about the metaverse. I even organized a half-day workshop on the metaverse, with part of the event held in the metaverse. It was very meta.
Last September, I had just picked up my youngest child from daycare when I received an eagerly awaited phone call. If you have ever been in a car with a squirming, squalling toddler, you know that it's not an environment conducive to hearing. However, I am nearly certain that I was told that the Search Committee and AIIM Board of Directors had selected me as AIIM's next President and CEO. I am thrilled that I didn't mishear and have now joined this special organization.
Information Governance | Sharepoint and Office 365
I know Halloween has come and gone, but I'd love for you to entertain a horrifying scenario for a moment. It's March 15, 2020, and the United States has just gone into lockdown in response to the COVID-19 pandemic. The Empire State Building in New York City, the Prudential Center in Boston, Willis Tower in Chicago, and office buildings across the country have become vacant ghost towns. Millions of companies and organizations have to figure out overnight how to conduct business outside the walls of their office for the first time. Now imagine cloud-based collaboration tools were never invented. There are no cloud storage solutions to safely share files across borders. There are no video meetings, digital whiteboards, or real-time document collaboration tools. There's no instant messaging or internal message boards. How does business get done? Can the world just completely stop for two years?
The Association for Intelligent Information Management (AIIM), the world's leading association dedicated to the information management industry and its practice, announced today that it has appointed Tori Miller Liu as its next Chief Executive Officer, effective December 1, 2022. She replaces Peggy Winton who, earlier this year, announced her decision to step down after serving in this position for seven years.