You still must get things done. The organization needs to make changes to adapt to a more turbulent world. However, how do you accomplish change when the organization's change capacity is used coping with COVID-19? Learn why change management skills are more critical now than ever.
You've been told that your information management project needs governance. Maybe you've even formed a governance committee. However, what is governance, anyway? If you've been in organizations for a while, you're likely indoctrinated into the theory of control; however, that's not what governance is about. Still, you must have governance, or you'll end up with chaos. How do you tame the mythical siren of governance to guide your users to safety and your organization to value?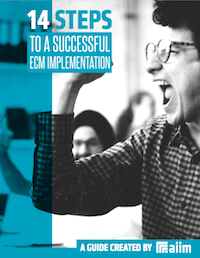 14 Steps to a Successful ECM Implementation
Making an ECM implementation successful requires planning and attention to detail. The best way to create the right solution is to identify organizational goals and priorities. Learn how to manage a successful implementation in our free guide.
AIIM on Air | Electronic Records Management (ERM) | Intelligent Information Management (IIM)
The energy industry plays a crucial role in all our lives. Without it, we wouldn't be able to keep the lights on...or the wifi, or the computers...and so on, but what is it that powers this critical industry?
The international standard on records management, ISO 15489 defines migration as the: "Act of moving records from one system to another, while maintaining the records' authenticity, integrity, reliability, and usability." But, migration is much broader than just records. Essentially, any time a legacy system is decommissioned, it should be reviewed to determine: What information is stored there? Does this information still need to be actively accessible? After asking these questions, you'll be able to determine when migration is needed. But, before you begin, I wanted to cover some problems that are commonly encountered with content migrations. Preparing for these challenges ahead of time can save you time, money, and countless headaches.
Artificial Intelligence (AI) | Human Resources
In their efforts to streamline key business processes, industry leaders have looked to artificial intelligence (AI) and automation. Automation has forced multiple industries to rethink how they work and function ⁠— and human resources is one field where automation proves its worth. However, automation is not a be-all end-all solution to HR woes. While it fills in the gaps where humans fail to deliver, automation has its disadvantages, too. That said, here are some pros and cons of automating HR processes.
Your project's approved and funded, but it feels stuck. You want to get things done, and so does everyone else – at least that's what they say. But somehow things aren't right, and your project is quickly coming off the rails. Here are five things you can do to stimulate your stakeholders and get things back on track.