Information Governance | Sharepoint and Office 365
I know Halloween has come and gone, but I'd love for you to entertain a horrifying scenario for a moment. It's March 15, 2020, and the United States has just gone into lockdown in response to the COVID-19 pandemic. The Empire State Building in New York City, the Prudential Center in Boston, Willis Tower in Chicago, and office buildings across the country have become vacant ghost towns. Millions of companies and organizations have to figure out overnight how to conduct business outside the walls of their office for the first time. Now imagine cloud-based collaboration tools were never invented. There are no cloud storage solutions to safely share files across borders. There are no video meetings, digital whiteboards, or real-time document collaboration tools. There's no instant messaging or internal message boards. How does business get done? Can the world just completely stop for two years?
The Association for Intelligent Information Management (AIIM), the world's leading association dedicated to the information management industry and its practice, announced today that it has appointed Tori Miller Liu as its next Chief Executive Officer, effective December 1, 2022. She replaces Peggy Winton who, earlier this year, announced her decision to step down after serving in this position for seven years.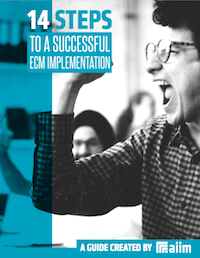 14 Steps to a Successful ECM Implementation
Making an ECM implementation successful requires planning and attention to detail. The best way to create the right solution is to identify organizational goals and priorities. Learn how to manage a successful implementation in our free guide.
The digital world has changed the way we live our lives. It has also changed the way organizations do business. With so much information being generated, it becomes more difficult for organizations to manage it all and ensure compliance with regulations like GDPR and HIPAA. Information governance helps organizations maintain control of their information while complying with these regulations.
Compliance | Electronic Records Management (ERM)
Late last year, the Securities and Exchange Commission announced that J.P. Morgan Securities LLC had agreed to pay $125 million to help settle charges of "widespread and longstanding failures by the firm and its employees to maintain and preserve written communications" over the course of several years. On the same day, the Commodity Futures Trading Commission ("CFTC") levied a $75 million fine against J.P. Morgan Securities ("JPMS"), along with two other JPMorgan Chase & Co. ("JPMorgan") entities, for substantially similar conduct—bringing the combined total penalty involving the JPMorgan parent organization to $200 million.
Digital Transformation | Intelligent Information Management (IIM)
There are two things you should know about me. The first is that I love to eat. I have an appetite that was once described as "alarming." In my teenage years, I would kick back and devour an entire large pizza in one sitting. As I grew older, I refined my pallet and developed a desire for quality ingredients and a craving for a variety of flavors. The second thing you should know is that I hate to cook.
New cloud-based approaches promise to transform workflow in ways that produce new levels of service, savings, and responsiveness. There are many strategic reasons for moving to the cloud. Organizations around the world have embraced the cloud as a way to fundamentally improve the performance of the business and dramatically improve customer experience.