AIIM on Air | Intelligent Information Management (IIM)
The phrase "the art of the possible" can mean different things to different people. For those of us in the information management business, it has come to mean "achieving what we can (possible), rather than what we want (often impossible)." For me, it's an optimistic view of the future rather than a fearful acknowledgment of our challenges and difficulties. The "art" part is where the magic happens; as we allow ourselves to explore the boundaries of what information technology permits us to achieve and how those capabilities move the needle in terms of transformation, innovation, and organizational performance; indeed pushing back those boundaries with a new, more forward-looking approach.
Intelligent Information Management (IIM)
A staple of many Information Technology (IT) policy suites is the Acceptable Use Policy (AUP), intended to govern what people working in the organization can and cannot do with the technology we provide them. IIM professionals and consultants push to have these kinds of policies in place, and countless templates and best practices are available on the Internet to use as a starting point if we don't have one already.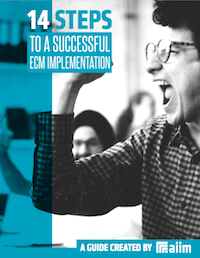 14 Steps to a Successful ECM Implementation
Making an ECM implementation successful requires planning and attention to detail. The best way to create the right solution is to identify organizational goals and priorities. Learn how to manage a successful implementation in our free guide.
This post is focused on the following topics. You may click these links to jump to a specific section:
AIIM on Air | Artificial Intelligence (AI)
How will humanity survive the AI revolution? Simple—we become superhuman. That is the subject of our new AIIM On Air interview with author and researcher Alex Bates.
Intelligent Information Management (IIM)
One would think that the rapid pace of changing technology is the primary struggle for organizations on their journey to transforming into a truly digital organization. However, based on our recent state of the intelligent information management industry research, that is simply not the case. At the top of the list of true obstacles that organizations face is money – "lack of budget and resources" (26%). This is followed by a "lack of a true strategy for managing information assets" (24%), and "an immature culture" (18%). Here's a look at the data from the research:
Global research and advisory firm, Gartner, predicts that by 2024 more than 45% of IT spending will shift from legacy on-premises solutions to the cloud. Cloud infrastructure spending is expected to jump from $63 billion in 2020 to $81 billion by 2022. The cloud race was well underway in 2020 when COVID reared its unfortunate head and sent businesses still on the cloud adoption starting blocks into a frenzy. Those who had already adopted and implemented a cloud-first strategy sat smugly in the stands. The perks of a cloud-first approach for data management have been well documented: unified, content-services platforms accessed anytime, anywhere by empowered employees leading to improved productivity and reduced operational costs.