I'll save you from having to read another contrived word about how difficult the last year was. And it was, without a doubt, difficult. Instead, I want to focus on one of my favorite positives to come out of the pandemic – the "Covid Hobby" phenomenon.
What is Information Governance, and Why is it Important? There are many benefits to constructing an Information Governance program plan. Generally, regulatory compliance or litigation activities are at the top of the list and often spur the creation of the IG program itself, but that's just the start of the list of IG benefits.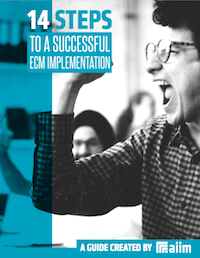 14 Steps to a Successful ECM Implementation
Making an ECM implementation successful requires planning and attention to detail. The best way to create the right solution is to identify organizational goals and priorities. Learn how to manage a successful implementation in our free guide.
Electronic Records Management (ERM) | Retention
What happens when information comes to the end of its lifecycle and no longer remains relevant, useful, or valuable? Or, what about when a record's retention schedule comes to an end? If we keep everything forever, we'll quickly run into issues like storage costs and other negatives like findability and increased risks. There's a better way - read on as we explore the importance of Disposition.
Digital Transformation and Intelligent Information Management Here at AIIM, we talk a lot about Digital Transformation and its link with the practice of Intelligent Information Management. But, what exactly is the link between IIM and Digital Transformation? We explore this topic thoroughly in this previous post, but in summary: Every organization is on – or should be on – a Digital Transformation journey. At the heart of this Transformation journey is the drive toward 1) understanding, anticipating, and redefining internal and external customer experiences. This primary driver depends on other key transformative aspirations such as 2) business agility/innovation, 3) operational excellence, and 4) automated compliance/governance. These drivers require information – in a leverageable form. Today, that's not always an easy task as the volume, velocity, and variety of information that most organizations need to manage, store, and protect now exceeds their ability to even marginally keep pace with big content challenges. That's where IIM comes in. This rising tide of information chaos and confusion is creating a demand for new information management practices that extend beyond traditional Enterprise Content Management. AIIM calls this Intelligent Information Management (IIM).
Regardless of your industry, managing information intelligently requires the ability to find, store, and use information effectively and flexibly in order to get good results. It all boils down to: Finding the right information when you need it. Storing important information in a secure and compliant way. Using that information in ways that matter.
AIIM on Air | Digital Transformation
We hear a lot about "Agile" as a way to manage change and spur innovation. But what exactly is Agile? And how can we use it to make a difference? That was the topic of our AIIM On Air interview with Darrell Rigby. Darrell leads Bain & Company's Global Innovation and Agile practices and is the co-author of "Doing Agile Right." He's a frequent speaker and writer on innovation and Agile, and has appeared on CNBC, CNN, and Bloomberg, and has had his research published in Harvard Business Review, the Wall Street Journal, and the Financial Times.