Project Planning | project management
Skilled project managers are the glue that keeps your team together. Without the shrewd judgment of an experienced project leader, your team is doomed to wander aimlessly from objective to objective with lowering morale, rising costs, and mounting hurdles.
Following on from our previous article where we identified how digital disruption is breeding new roles in the project and business landscape. We are now going to focus on the hands-on Digital Project Sponsor.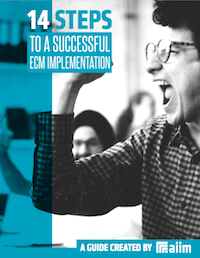 14 Steps to a Successful ECM Implementation
Making an ECM implementation successful requires planning and attention to detail. The best way to create the right solution is to identify organizational goals and priorities. Learn how to manage a successful implementation in our free guide.
automation | digital processes | document management | human resources | intelligent information management
Are your Human Resources processes intelligent? Before you try and answer that, let me explain more about what I mean.
digitization | ecm | intelligent information management
A new year gives us the chance to reflect on all we've accomplished and set our sights on new challenges to conquer. If you haven't embarked on your Digital Transformation journey, this is the perfect time to begin.
digital transformation, | information security | legal | paperless | podcast | privacy
No, you read that title right – seventy THOUSAND boxes of paper in the highly restrictive environment of legal services. That's what Susan Gleason, Manager of Records and Information Governance at Shipman & Goodwin and her team were up against.