AI | deep learning | digital transformation, | intelligent information management | machine learning
There's a lot of excitement about Artificial Intelligence and business automation these days, and for good reason. Developments in AI — and its sidekicks "Deep Learning" and "Machine Learning" — bring the promise of transforming work as we know it. Those transformed work processes will operate in a completely different way: fully automated and autonomous, with smart machines doing the work. The vision is to free humans from performing mundane and repetitive business tasks and assist them with better access to better information to better serve customers and the business.
CRM | HR | bpm | erp | process management
I've been working on a project over the past few weeks focused on the role that content plays in core business processes, specifically Human Resources (HR), Customer Relationship Management (CRM), and Enterprise Resource Planning (ERP).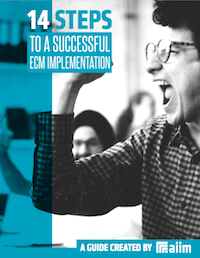 14 Steps to a Successful ECM Implementation
Making an ECM implementation successful requires planning and attention to detail. The best way to create the right solution is to identify organizational goals and priorities. Learn how to manage a successful implementation in our free guide.
AIIM19 | IIM | customer experience | intelligent information management
At AIIM, we believe that every organization is on — or should be on — a Digital Transformation journey. How effectively you navigate this journey relies on how adept your organization is at combatting the rising tide of information chaos. This requires new strategies and skills that extend beyond traditional ECM. We call this modern approach Intelligent Information Management. The purpose of this journey, the reason for Digital Transformation, is a drive to understand, anticipate, and redefine internal and external customer experiences.
automation | content mangement | intelligent information management | webinar
Information is cascading down upon every organization in unprecedented volumes and forms, challenging traditional and manual concepts of records management and information stewardship. This information tsunami is happening at the very time that the process value of these digital assets is more mission-critical than ever.
digital transformation, | intelligent information management | podcast
The beginning of the year new year is always such an inspiring time – it's the time of year that many of us begin to reflect on the previous year, take note of potential areas for growth and opportunity, celebrate our accomplishments, and ultimately shape a plan for continued success in the new year. This exercise is often done both on a personal level in our daily lives as well as with our employers in our business lives.
While Artificial Intelligence (AI) has the potential to be a very powerful tool in information management, the topic is so wrapped up in hyperbole and confusion that it can be challenging to cut through all the noise, causing many to fear the complexity of AI. As you may know, AIIM recently launched a new training course titled Practical AI for the Information Professional. The challenge presented to my colleague Kashyap and I was to take a very complex and hyped topic and make it understandable and relevant to the real world needs of the business -- cutting through the hype, demystifying the technology and providing sound advice and guidance. New Training Course from AIIM: Practical AI for the Information Professional What we found in our research was that AI is not as complicated or daunting as most believe. We discovered in our dozens of conversations with folks from organizations of all sizes that there are three major misunderstandings about the use and value of AI.