document management | scanning
Companies are always looking for ways to make their workplace more productive and efficient and to reduce costs. Document management has an important part to play here. A survey conducted in 2012 showed that 21.3% of losses in employee productivity are due to paper-based documentation challenges that businesses go through. Converting your paper files into digital files via document scanning services can really help in alleviating the nuisance of managing paperwork at the office. While some documents do need to be printed, digitization can considerably increase your workplace productivity. With document scanning businesses, you can achieve superior efficiency, better systems for storage and retrieval and greater security controls. Let's take a deeper look into how digitization can prove to be beneficial for your business.
certified information professional | information professionals
Good news - we've updated Certified Information Professional (CIP) exam! For the last six months, a group of very experienced subject matter experts has been revising the CIP exam, program, and training. With any change comes questions, so I thought I would take some time to answer some of the ones I'm sure you're asking.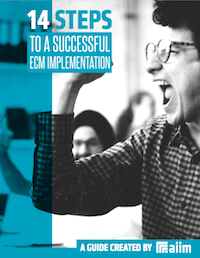 14 Steps to a Successful ECM Implementation
Making an ECM implementation successful requires planning and attention to detail. The best way to create the right solution is to identify organizational goals and priorities. Learn how to manage a successful implementation in our free guide.
Did you know that AIIM is governed by a Board of Directors (BOD)? Our BOD is the governing body of our Association. We rely on this group of individuals to help us establish strategic direction and set policies. Members of the Board represent a cross-section of our community who volunteer their time and talents to this position.
Project Planning | collaboration | project management
Sometimes a little too much of a good thing can be a bad thing. An overabundance of motivation can lead to stress, fatigue, and burnout. According to the Harvard Business Review, the majority of managers now spend over 85% of their work time checking emails, checking up on meetings, connecting with people over the phone, and checking their phones for important, work-related updates. This is a staggering 50% jump in just a decade's time. Clearly, we need better ways to manage time.
certified information professional | information professionals
I am very pleased to announce that the Certified Information Professional (CIP) exam has been approved for reimbursement under the Veterans Education Benefit program for Licensing and Certification reimbursements administered by the U.S. Department of Veterans Affairs - aka the GI Bill.
digital disruption | project management
As a project manager that specializes in digital software products, I will let you in on a secret about a new role, a new type of person that is emerging in the ranks—and it's all good news for your project. This particular role actually inspired this series of articles about new roles that were emerging in the project life cycle due to digital disruption. The previous articles in this series are: The Servant Leader, Team Doctor, Technically-Comfortable Agile Project Manager The Connected, Inspired, Hands-on Project Sponsor – Leading the Digital Charge The Emergence of the Elusive Digital Unicorn As a project sponsor or agile project manager, you should definitely be on the lookout for this person, because if you can find them and secure them for your team, you will have given yourself a much-needed advantage in ensuring you ship a quality product. The person is the new type of QA engineer.