Artificial Intelligence (AI) | Information Security | Privacy
According to the 2019 IDC study of spending on Artificial Intelligence (AI), it's estimated to reach $35.8 billion in 2019 and is expected to double by 2022 to $ 79.2 billion representing an annual growth rate of 38% for the period 2018-2022. The economic benefits and utility of AI technologies are clear and compelling. No doubt, applications of AI may address some of the most vexing social challenges such as health, the environment, economic empowerment, education, and infrastructure. At the same time, as AI technologies become more pervasive, they may be misused and, in the absence of increased transparency and proactive disclosures, create ethical and legal gaps. Increased regulation may be the only way to address such gaps.
Intelligent Information Management (IIM)
I returned to downtown Washington, DC, last week to teach the AIIM Foundations of Intelligent Information Management (FIIM) course. The class started with some icebreaker exercises, including asking the students to define, in their own words, "What is information management?" There were some fantastic definitions generated from the students for this and other discussion questions throughout the course. However, there was one question that kept coming up over and over again during the course, "Where should information management live in the organization?" That is to say, where should the information management/records management/information governance job function be located within an organizational structure? I thought this was an interesting topic, and I'd like to share some of the thoughts and feedback from the class.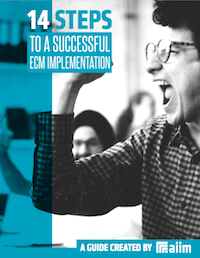 14 Steps to a Successful ECM Implementation
Making an ECM implementation successful requires planning and attention to detail. The best way to create the right solution is to identify organizational goals and priorities. Learn how to manage a successful implementation in our free guide.
AIIM on Air | Paperless Office
The dream of going paperless has been on the minds of businesses of all sizes and industries for years. The idea is simple - minimize the use of paper to reduce costs and carbon footprint while at the same time increasing operating efficiencies and profitability. But just because a concept is simple doesn't mean it's easy to implement. And so for many, the dream of a paperless office continues to be just that…a dream.
Capture and Imaging | Intelligent Information Management (IIM)
While digital information accuracy is important to all document preservation, some institutions benefit from it more than others. Intelligent Information Management (IIM) and paperless offices are sufficient for most businesses, but if the content is important for historical or informational purposes rather than a backup, the quick and easy options for digitization don't always do the trick. There are serious pitfalls of intelligent capture, especially if a precise representation of the document's content is important to a collection, such as legal documents, documents used for research and reference, or a historical document collection like a digital library. In these cases, human factors can never be replaced by technology because of the intelligence and problem-solving care experts possess. Whether the end result is for a paperless office or a collection of documents, the metadata, organization, and hands-on human approach can make the resulting digital library much more accurate and efficient.
Electronic Records Management (ERM) | Intelligent Information Management (IIM)
Defining a New Era of Records Management Records management has traditionally been significantly focused on compliance. Compliance is important; to be sure; the more highly regulated an organization is, the more important compliance is. Every organization has to comply with something, even if it's just tax and personnel regulations. And it's complicated – every year seems to bring more laws and regulations, not less. As a reflection of this, in the original AIIM Electronic Records Management course, we identified 4 business drivers, and the first one listed was compliance (along with continuity, effectiveness, and efficiency). But while compliance is important, it's insufficient as a business driver. Compliance doesn't get management excited and eager to pour resources into it until there is a problem – and once the problem goes away, so does the focus and availability of resources. We argued in the AIIM 2019 State of the Industry – Content Services that "[information management] is better sold indirectly – as a byproduct of automation and customer experience – than head-on."
Capture and Imaging | Paperless Office
What is Capture? Despite technology, most companies continue to struggle to manage the burden of paper in many important business processes. And while there are many technological approaches to digital transformation, the first step is often scanning. Also known as "capture," this capability is characterized by the ability to scan paper documents to store and use them in digital form instead of paper. First developed over 30 years ago, capture systems have evolved from simple solutions for basic scanning into sophisticated and expensive systems for enterprise-wide document automation. Therefore, it's important to understand and leverage scanning as a fundamental tool for business today.