Did you know that AIIM is governed by a Board of Directors (BOD)? Our BOD is the governing body of our Association. We rely on this group of individuals to help us establish strategic direction and set policies. Members of the Board represent a cross-section of our community who volunteer their time and talents to this position.
Project Planning | collaboration | project management
Sometimes a little too much of a good thing can be a bad thing. An overabundance of motivation can lead to stress, fatigue, and burnout. According to the Harvard Business Review, the majority of managers now spend over 85% of their work time checking emails, checking up on meetings, connecting with people over the phone, and checking their phones for important, work-related updates. This is a staggering 50% jump in just a decade's time. Clearly, we need better ways to manage time.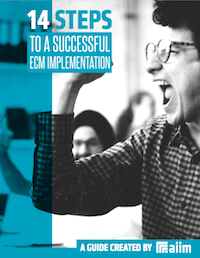 14 Steps to a Successful ECM Implementation
Making an ECM implementation successful requires planning and attention to detail. The best way to create the right solution is to identify organizational goals and priorities. Learn how to manage a successful implementation in our free guide.
certified information professional | information professionals
I am very pleased to announce that the Certified Information Professional (CIP) exam has been approved for reimbursement under the Veterans Education Benefit program for Licensing and Certification reimbursements administered by the U.S. Department of Veterans Affairs - aka the GI Bill.
digital disruption | project management
As a project manager that specializes in digital software products, I will let you in on a secret about a new role, a new type of person that is emerging in the ranks—and it's all good news for your project. This particular role actually inspired this series of articles about new roles that were emerging in the project life cycle due to digital disruption. The previous articles in this series are: The Servant Leader, Team Doctor, Technically-Comfortable Agile Project Manager The Connected, Inspired, Hands-on Project Sponsor – Leading the Digital Charge The Emergence of the Elusive Digital Unicorn As a project sponsor or agile project manager, you should definitely be on the lookout for this person, because if you can find them and secure them for your team, you will have given yourself a much-needed advantage in ensuring you ship a quality product. The person is the new type of QA engineer.
FIle Shares | co-authoring | digital transformation, | intelligent information management
Prior to becoming involved with the content and information management industry, I spent several years in the high-volume printing industry. I was a mid-level executive for a large health insurance provider and was responsible for printing and mailing, pre-press and offset printing, and electronic book publishing across four states. And let me tell you, my teams concentrated on output. Tons of it. Twenty four hours a day, 365 days of the year. Imagine stacks of paper everywhere and truckloads of output being shipped and mailed nationwide. This is in great contrast to today and my current involvement in the enterprise content management industry (now Intelligent Information Management) where our attention is largely focused on input...with much less focus on output. We aggressively capture data, input that information into advanced systems and databases, and then safeguard it with methodologies and teams designed to collect and protect information.
capture | ecm | enterprise content management
5 Elements of Real-time Capture Why should your organization care about the differences between real-time capture and batch capture? Each has a purpose and benefit to an organization, based on the need, information type, and value it represents in relation to operational outcomes. Many businesses today, are facing increased demands to capture information from unique applications immediately, and address multi-channel capture at the first touch-point of content. They are looking for ways to identify and harness the power of the most effective and efficient capture services to automate the capture process and integrate it with business critical processes and workflows. These developing requirements are defining the discussions around real-time capture.