AIIM on Air | Artificial Intelligence (AI)
The notion of Artificial Intelligence has pervaded both the business world and popular culture. And, while Hollywood often portrays AI in a future world of smart robots with super-human characteristics, the truth is that AI technologies are already at work fueling important changes in the way business is conducted every day.
In last week's article, we talked about the changing role of M365 within organizations, how it is governed, and how it connects with other content management solutions. Given its rapid evolution and adoption – particularly with the maturation of Office 365 and Cloud versions of SharePoint, we probably should have made a few points about brand terminology. With similar names, "Microsoft 365" and "Office 365" are sometimes used synonymously by users. They are actually different. What's the difference? Let's take a look: The confusion may have started in 2017 with Microsoft's release of Microsoft 365. This new offering bundled a group of their existing products under one license. One of the products included in the bundle is Office 365...you can see where terminology confusion set in. Let's clear things up with the infographic below: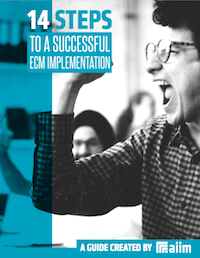 14 Steps to a Successful ECM Implementation
Making an ECM implementation successful requires planning and attention to detail. The best way to create the right solution is to identify organizational goals and priorities. Learn how to manage a successful implementation in our free guide.
As late as 2010, many end-users and solution providers viewed SharePoint as useful for project groups and document sharing – but more of an interesting tangent to the world of content management than "real" ECM. However, standalone ECM solutions at that time came at a very high cost. Many of these ECM solutions were built for high-volume scanning/capture applications and priced accordingly. So what about those who couldn't afford that investment? What about the middle market masses?
The amount of data organizations must manage today is truly mind-boggling. Research shows that there are 2.5 quintillion bytes of data created each and every day. During the last two years alone 90% of the data in the world was generated. It's no wonder that many organizations struggle to simply keep pace. And moving mountains of data from older legacy systems to modern cloud-based repositories can seem out of reach for most, regardless of the potential advantages of modernization. But what can you do when you need to migrate? If leaving your data in place is not an option, and moving it makes you lose sleep at night, you can quickly feel overwhelmed by the chaos. Thankfully, there are some new approaches to data migration that may provide an answer. Which is the best approach for your project? Let's take a look at three common approaches to migration to compare them.
Electronic Records Management (ERM)
The National Archives and Records Administration (NARA) and Office of Management and Budget (OMB) set forth the government-wide policy M-19-21 as a directive to progress how government records are managed. Read on to learn what this directive is, who it impacts, and seven factors necessary to achieve compliance. What Is M-19-21? Who Does M-19-21 Impact? When Is The M-19-21 Deadline? 7 Factors Necessary to Achieve Compliance
AIIM on Air | Digital Transformation
What is the future of work? That's hard to say. But one thing seems certain: Disruption lies ahead. Driven by innovations in technology, shifting business strategies, and evolving definitions of success, the workplace is changing fast. As the adoption of things like process automation, AI, and Machine Learning continue to accelerate, so will the pace of change in the workplace. Indeed, with the continuing trend toward remote work, many of us may not have a workplace at all. As a result, we must all reconsider how jobs are designed and work to adapt and learn for future growth.