certified information professional | solution selling | training
I've been thinking a lot lately about the role of solution providers in the information management industry, specifically as applied to education and professional development. In this post I am focusing on the members of solution providers' staff that are marketing to customers, selling to customers, acting as the voice of the customer, and implementing and supporting customers' solutions.
analytics | cloud | content services | intelligent information management | podcast
Over the past few years, we've seen the Enterprise Content Management (ECM) industry go through some significant changes. Many would say it goes even deeper than change and have been calling it a metamorphosis. In nature, metamorphosis is the process of transformation from an immature form to an adult form in two or more distinct stages – a good example is a tadpole turning into a frog.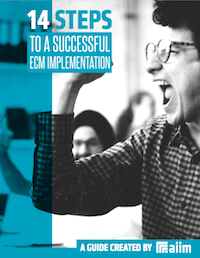 14 Steps to a Successful ECM Implementation
Making an ECM implementation successful requires planning and attention to detail. The best way to create the right solution is to identify organizational goals and priorities. Learn how to manage a successful implementation in our free guide.
automation | content management | enterprise content management | records management
Guest Post: Joanne E. Novak from Konica Minolta Business Solutions. For the past 3 years, the Clerk of Common Pleas Court in Clark County, OH, Melissa Tuttle, has been utilizing a content management tool to automate her business workflows. Like many Counties, Melissa and her team deal with a lot of paperwork and file types. Utilizing a content management tool has helped them eliminate the time-consuming burden of pulling paper files manually and instead utilize automation so that Melissa and her team can do their jobs better. "[Our content management tool] is not just a scanning tool, but much more…to help the workflow and integrations, and help us achieve our goals in running the court system." - Melissa Tuttle, Clerk of Common Pleas Court, Clark County, OH This county adopted technology over a decade ago to become more efficient. Yet, today there are many other counties in the US still struggling with manual processes and paper files. With each state creating their own guidelines for public record requests, it's become a growing challenge for the clerk's office to respond "as quickly as possible" to provide the requested information.
certified information professional | information professionals
Welcome back to the last post in this series on the updated Certified Information Professional (CIP) exam. In this post, I'll be focusing on Domain 5, Implementing an Information Management Solution. You can review the previous posts in this series here: Domain 1: Creating and Capturing Information Domain 2: Extracting Intelligence from Information Domain 3: Digitalizing Core Business Processes Domain 4: Automating Governance and Compliance We end this series by looking at how to implement an information management program. Such a program includes more than just technology, though that is often a part of the overall solution. But it's also assessing the current state of the organization, making the business case for change, and designing a solution that will support and enable its goals and objectives.
cloud | intelligent information management | mobile | podcast
The modern business ecosystem has changed considerably in just the past few years and with it have come some new challenges for the information professionals involved in storing, maintaining, and protecting it all. Managing business information has grown from something that was once limited and contained behind the corporate walls to something that's well…anywhere and everywhere! The rising demand for new devices, greater agility, and work beyond the corporate wall has given birth to a new wave of challenges, including:
digital transformation, | intelligent information management
Organizations around the world invest a great deal of time and money to manage information. The expense of hardware, software, and facilities can add up quickly and costs the average organization somewhere in the range of 3.5% to 7% of annual revenue. So, if you have a $50 million company you can anticipate that you'll spend around $3 million or so to manage your information every year.