Information Governance | Intelligent Information Management (IIM)
Navy Petty Officer1st Class Rholanda Tucker, assigned to the "Blacklions" of Strike Fighter Squadron 213, conducts routine maintenance on a 20mm gun from an F/A-18F Super Hornet in the hangar bay of the aircraft carrier USS Gerald R. Ford in the Adriatic Sea, July 16, 2023. The Gerald R. Ford Carrier Strike Group is on a scheduled deployment in the U.S. Naval Forces Europe area of operations, employed by the U.S. Sixth Fleet to defend U.S., allied, and partner interests. Photo By: Navy Petty Officer 3rd Class Aaron Arroyo
"With great power comes great responsibility" is an adage that Stan Lee's Spider-Man popularized in popular comics, films, and other media. In Information Management today, there is great power in systems that leverage Artificial Intelligence for quickly making decisions and processing massive volumes of information. As information managers, we have a responsibility to understand that these systems have a potential for bias and how to identify and mitigate risks associated with producing reliable and ethical systems.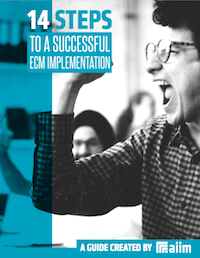 14 Steps to a Successful ECM Implementation
Making an ECM implementation successful requires planning and attention to detail. The best way to create the right solution is to identify organizational goals and priorities. Learn how to manage a successful implementation in our free guide.
Governments around the world have started the arduous process of developing regulations and standards for artificial intelligence. In June 2023, AIIM formally responded to a request for comment from the U.S. National Telecommunications and Information Administration (NTIA) on AI accountability. According to the NTIA website, more than 1,400 responses were submitted. Information management is not an insular profession and it's most successful in an organization when it's focused outward on the needs of stakeholders and business outcomes. As such, AIIM's leadership strongly believes that we must take a strong, active stance on how AI tools use and produce information. AIIM believes it's vital that regulators develop flexible and practical guardrails for how information is treated during AI development and use. Guardrails will empower innovation, boost adoption, and ensure accountability.
Artificial Intelligence (AI) | Automation | Intelligent Information Management (IIM) | Process Automation
Since the earliest forays into optical character recognition (OCR) by Ray Kurzweil in the early 1970s, software developers have been on a mission to teach computers how to do the paperwork for us. What if the computer could replace the interminable number of hours needed each day in offices around the globe for humans to read documents, understand the meaning, and extract the right data for the next step in a work process? What if the computer could also do the data entry?
Content Migration | Digital Transformation | Intelligent Information Management (IIM)
Research Indicates Digital Transformation Has Stalled After we received the survey responses for the AIIM 2023 State of the Intelligent Information Management Industry Report, I spoke to the report's authors, Dave Jones and Theresa Resek, about a concerning statistic. Enterprise digital transformation (DT) efforts have stalled. Dave later wrote in the report "over 65% of organizations have achieved significant successes with DT, but that still leaves at least a third who have not."
AIIM Community | Collaboration | Human Resources | Women in Information Management (WIIM)
In honor of Pride Month in June, I wanted to share some thoughts about diversity, equity, and inclusion (DEI) in the information management industry.