AIIM on Air | Intelligent Information Management (IIM)
Quick disclaimer - if you stumbled onto this page because of an errant keystroke like I had when looking for a suitable image for this post and were actually looking for "The Best PodCATS"...without further ado, I bring you the best "podcat" I could find: But, if what you're really interested in learning about are the best podcasts on the topic of information management; then, you're in the right place. Since it's release, the AIIM On Air podcast has had over half a million downloads, averaging around 10,000 downloads per month. We work hard to deliver these 25-minute episodes exploring the methods, technologies, processes, and people on the front lines of information management. But, despite putting out two new episodes per month, we still get people asking for more. So, for those podcast bingers out there looking for more, we thought we would put a list together of our favorite information management podcasts to help keep your ears happy on your commute, at the gym, or anywhere else you listen to them. (*Note: To keep it neutral, we're using the listener ratings on Apple Podcasts.)
This week I taught the AIIM Modern Records Management Master Class in Washington, DC. As with previous classes, there was a question that generated significant discussion among the students. In this instance, the question was about a system implementation that was not successful: "When you have a failed implementation, should you stick with it and try to make it work, or should you replace it with a better system?"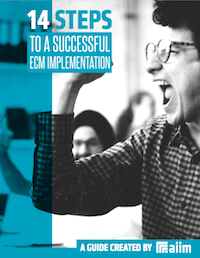 14 Steps to a Successful ECM Implementation
Making an ECM implementation successful requires planning and attention to detail. The best way to create the right solution is to identify organizational goals and priorities. Learn how to manage a successful implementation in our free guide.
Collaboration | Email Management
While social media, the cloud, and advanced enterprise content management systems get the most attention, the fact is that plain old email remains to be a foundational tool in the way business gets done. And email shows no signs of going away any time soon. In fact, the total number of active email users jumped to 3.9 billion in 2019. American workers will receive an average of 126 emails a day. Like it or not, email remains the glue that ties an organization together. We use it to communicate with our bosses, colleagues, partners, and customers. We use it for storing important messages, and a lot of important collaboration happens in email. But, just because a tool can be used for a particular job doesn't mean it's the best option.
Electronic Records Management (ERM)
How much does Records Management training cost? In a way, it's a bit like asking, "How much does dinner cost?" So much of the answer depends on what you want. The cost of dinner could run anywhere from a couple of bucks for those pursuing the dollar menu at their favorite fast food joint, to something like "The Posh Pie" at the Lord Dudley Hotel in Sydney, Australia, which comes with a hefty $12,000 price tag. But, as the Association for Intelligent Information Management (AIIM), we get asked this question all the time. And just like the dinner question, it really depends on what you want. But, if you're like me – when it comes to dinner (or training), you like to know the options.
Team collaboration is one of the biggest factors that will contribute to the success of any business in the next decade. A joint study between the Institute for Corporate Productivity and Babson College found that companies that actively work to leverage collaboration as an organizational skill are five times more likely to be high performing. And after studying 55 of the largest teams from companies like the BBC, Marriott, and Pixar, researchers identified that the top factor in peak performance was the fact that leaders of the organization championed and enabled collaboration as an operational imperative. This means establishing the ability to collaborate on content at any point in its lifecycle securely.
Document Management | Electronic Records Management (ERM)
When I teach, questions often come up about the differences and similarities between document management and records management. Is there any difference? Does it really matter? Which one is best? The answers are, respectively, yes, yes, and it depends. Let's take a look at each.