Every organization is on — or should be on — a Digital Transformation journey.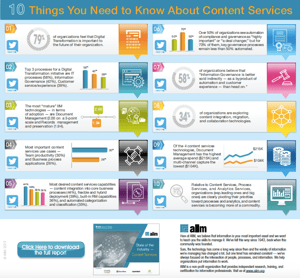 AIIM surveyed over 300 decision-makers from around the world about their focus on content services.
In this infographic, we pulled out the 10 most important data points surrounding the current state of Content Services technologies (records management & preservation, document management, multi-channel capture, content migration, integration & collaboration).
User perceptions around content services and these technologies are changing - find out what that means for you with this FREE infographic.
Simply fill out the form on this page to download your infographic and learn more.