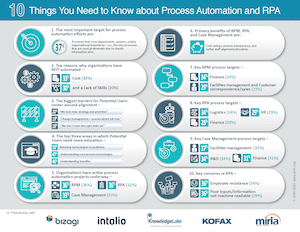 As torrents of information continue to bombard our organizations daily, the appetite to decrease budgetary costs, work more remotely, and become more efficient grows.
Process automation is an obvious choice for information professionals – but it isn't always the first thing that senior leaders reach for.
Information professionals must concisely articulate the ROI of process automation in the same manner as advocating for IT system procurement or upgrades, not simply focusing on cost and efficiency, but on the user experience and its direct relationship to mission performance.
To help you make the case, we surveyed over 260 information professionals from all over the world and compiled the most important statistics into this FREE Infographic.
Get your copy today to explore:
The Most Important Automation Targets
Common Barriers to Automation
Primary Benefits
And More!