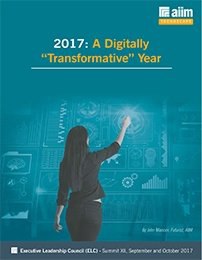 In 2017, AIIM introduced the term Intelligent Information Management (IIM) to describe the new world of content management and its potential for transforming business.
To further vet this term and define the pillars of what IIM truly means, AIIM gathered its Executive Leadership Council in June and October.
The Council's latest discussions and recommendations are found here is this Trendscape report and center around 4 key goals:
"Dehype" the conversation about Digital Transformation.
Explore the critical role of revolutionizing customer, employee, and partner experiences in Digital Transformation.
Define the core intelligent information capabilities that are critical to drive meaningful Digital Transformation.
Provide practical advice to organizations undertaking Digital Transformation initiatives.
Explore their findings, case studies, and recommendations for planning your digital transformation.