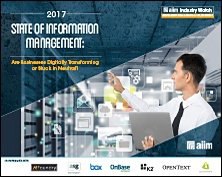 As private and public organizations move to adopt and implement the latest technologies to build out their information management ecosystems and digitally transform their operational processes, there are challenges to be overcome in extending the capabilities—once confined to the desktop—beyond the corporate walls to extended transactional processes.
For purposes of context for our survey, we positioned digital transformation as the concept of being paperless, using multi-channel inbound capture, and the impact digital transformation will have on individuals, business organizations, and operational processes. What we found is that there is progressive movement, albeit not the hockey stick inclination everyone hopes for, but movement nonetheless.
Download this FREE executive summary for a look at the key findings on the current state of Information Management.