The Information Management Industry's Stance on Generative AI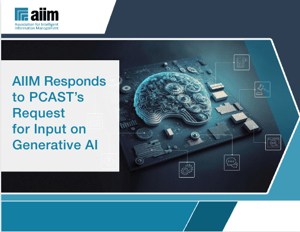 On behalf of our board of Directors and members, the Association for Intelligent Information Management (AIIM) responded to the U.S. President's Council of Advisors on Science and Technology (PCAST) request for input on generative AI in mid-2023. Our goal was to share AIIM member organizations' insights and expertise in artificial intelligence (AI).
AIIM members have been using artificial intelligence to advance intelligent information management for the past two decades. From this experience, we have learned the importance of balancing innovation with risk mitigation. This document provides guidance on generative AI based on the intelligent information management industry's 80+ years of experience.
Download AIIM's Comments on Generative AI
Complete the form on this page to receive a complimentary version of AIIM's response to PCAST. We encourage information management professionals to use the letter as a tool to help guide conversations, decisions, and policy about using generative AI in their own organizations.
Authors
AIIM thanks the authors of this letter:
Rachna Choudry, Communications Consultant
Kashyap Kompella, CEO, rpa2ai

Tori Miller Liu, MBA, FASAE, CAE, President & CEO, AIIM

Alan Pelz-Sharpe, Founder, Deep Analysis