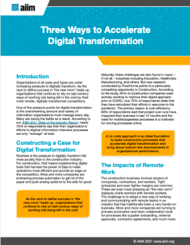 Organizations of all sizes and types are under increasing pressure to digitally transform. As the race to define success in 'the new norm' heats up, organizations that continue to rely on last-century ways of working risk being left in the cold by their more nimble, digitally-transformed competitors.

One of the pressure points for digital transformation is the overwhelming amount, and variety of information organizations must manage every day. Many are losing the battle as a result. According to our AIIM 2021 State of the Industry Report, nearly 70% of respondents say that their organization's efforts to digitize information-intensive processes are only "average" at best.

Download your free copy of this tip sheet to learn how to digitally transform quickly and begin to build a competitive advantage with three best practices to get you started.
Underwritten by: