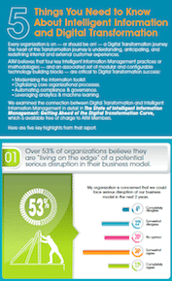 Every organization is on — or should be on! — a Digital Transformation journey. The heart of this Transformation journey is understanding, anticipating, and redefining internal and external customer experiences.
AIIM believes that four key Intelligent Information Management practices or methodologies — and an associated set of modular and configurable technology building blocks — are critical to Digital Transformation success:
Modernizing the information toolkit.
Digitalizing core organizational processes.
Automating compliance & governance.
Leveraging analytics & machine learning.
We examined the connection between Digital Transformation and Intelligent Information Management in detail and outlined our findings in this FREE infographic.