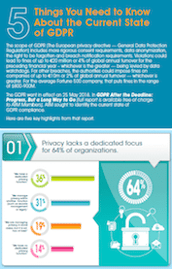 The scope of GDPR (The European privacy directive — General Data Protection Regulation) includes:
More rigorous consent requirements
Data anonymization
The right to be forgotten
Breach notification requirements

Violations of GDPR could lead to fines of up to €20 million or 4% of global annual turnover for the preceding financial year – whichever is the greater. For other breaches, the authorities could impose fines on companies of up to €10m or 2% of global annual turnover — whichever is greater. For the average Fortune 500 company, that puts fines in the range of $800-900M.
GDPR went in effect on 25 May 2018. But now some short time later, we wanted to take a look at the current state of GDPR compliance. Download this FREE infographic for an outline of the five key highlights around the journey to GDPR compliance.