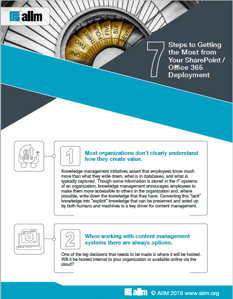 Office 365 and SharePoint implementations have taken hold at just about every organization. In our survey alone, over 90% of respondents reported that they currently use or plan to use Office 365 and/or SharePoint.
Is it safe to assume that every business using the same technology should be at a level playing field? According to our research, it doesn't quite work that way. In fact, there are some glaring differences between the industry leaders and laggards – and it all comes down to how they are using and leveraging this software.
Are you getting the most out of your Office 365 and SharePoint implementations?
Download this free checklist for 7 steps that you can start today to ensure you're using your implementations to the fullest.