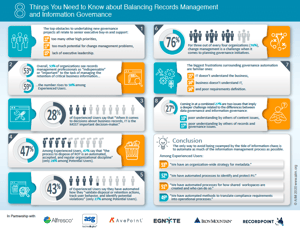 In an era with rising levels of BOTH information chaos AND customer expectations, it is more critical than ever before that organizations make a commitment to move away from manual governance.

As the stakes for digital competence rise, are organizations putting their very existence at stake if they do not automate the processing of information wherever and whenever they can?

We surveyed over 220 end-user organizations to get the full picture of the current state of Information Governance and to explore the link between Automation, Governance Effectiveness, and Digital Transformation.

Get your FREE copy of this infographic to explore the key data points.