A FREE infographic with the key trends impacting IIM in 2021!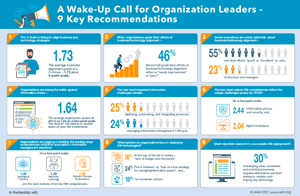 Hundreds of decision-makers from the AIIM Community weighed in on this exploration of the state of information management.
What are the top concerns and challenges?

How aligned are business/technology efforts?

How does the IIM methodology fit in?
To find out, we surveyed executives and practitioners from the community of professionals who work within organizations that have the best sense of the gaps that exist between information management good intentions and information management realities.
The research highlighted specific information concerns that organizations need to seriously address if they hope to succeed in their journey to becoming truly digital organizations.
Download your free copy today to learn more about the state of the IIM industry.
Preview the Trends