A light-hearted and entertaining look at Digital Transformation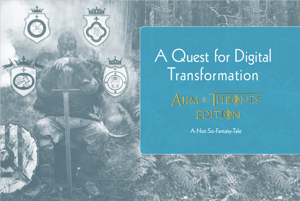 Who says learning can't be fun? Here at AIIM, we certainly don't. Which is why we're taking a slightly different approach to the Digital Transformation topic with this ebook. Follow along with our story's heroine, Avery Dayjo as she embarks on an exciting journey to help fight the information chaos threatening to destroy her home in the far away World of Business!
Will Avery have what it takes to defeat the information chaos and save the day? Find out with this FREE ebook full of light-hearted humor, intrigue, and education.
"A long time ago... in a distant yet familiar place – there was a land called "The World of Business." In Business, times were always good. The people in all of the surrounding villages were all thriving off of the world's most important natural resource – information! For years, the people of Business mined a single source of information under the supervision of their Information Manager Avery Dayjo. Avery and her team manually processed, stored, and protected Business' Information. They worked hard, and they did a great job.
But, something had become amiss in Business…in recent months, the surrounding villages of Marketing, Operations, and Finance had all discovered mines of information in their communities and had begun to funnel it all to Avery and her team for processing. Sensing danger, Avery has gone straight to Business' Capital to meet with the village Chiefs and the world's leader, President Anne C. Eyo.
There, in the Grand Meeting Hall of Business, Avery stands before a huge wooden table pleading her case..."
To read on, simply fill out the form on this page to download the full ebook for free.