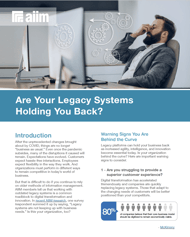 After the unprecedented changes brought about by COVID, things are no longer "business as usual." Even once the pandemic subsides, many of the disruptions it caused will remain. Expectations have evolved. Customers expect hassle-free interactions. Employees expect flexibility in the way they work. And organizations must perform in different ways to stay competitive in today's business world.
But that isn't easy to do if you continue to rely on older information management methods. AIIM members tell us that working with outdated legacy systems is a common roadblock to digital transformation and innovation. In recent AIIM research, one survey respondent summed it up by saying, "Legacy systems are not keeping up with business needs." Is this your organization, too?
Download your free copy of this tip sheet to learn warning signs that you are behind the curve and best practices.