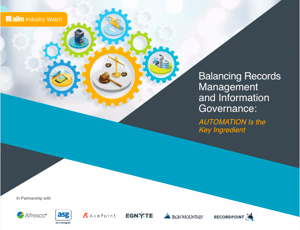 The convergence of twin forces – information volume and information variety – are forcing our traditional practices of records and information management to broaden.
The reality is that the practice can no longer be handled by traditional manual approaches based upon a paper paradigm. Something needs to change.
That "something" is the automation of information governance.
This report combines key research and data points that describe the current state of information governance paired with insightful analysis of those data points by our Expert Panel. The analysis is organized into seven key recommendations, designed to help records managers and information governance executives be more effective in making their case to senior management.