For our Channel Community of System Integrators, Resellers, and BPOs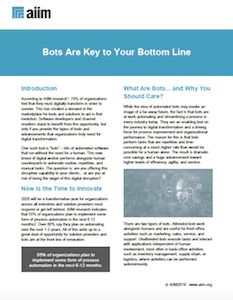 According to AIIM research, almost 80% of organizations feel that they must digitally transform in order to survive. This has created a demand in the marketplace for tools and solutions to aid in that evolution.
One such tool is bots. These bits of automated software run without the need for a human and automate routine, repetitive, and manual tasks.
Are you offering this disruptive capability to your clients... or are you at risk of being the target of this digital disruption?
How can resellers and integrators make the most of this market opportunity? Download this FREE tip sheet to explore:
What Are Bots… and Why You Should Care?
How to Expand Your Business by Enhancing Your Clients' Process Capabilities
Real-World Examples of Bots in Use
Recommendations to Integrate Bots into Your Service Offerings
Simply fill out the form on this page to download this free tip sheet and learn more.