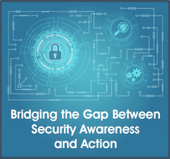 People talk a lot about the rising tide of information. As we continue to do business in the digital age, the amount of information we need to manage, store, and protect is increasing...and at an explosive rate! In fact, 35% of organizations we surveyed believe the volume of information and data coming into their organizations will grow more than 5-fold in just the next two years; on average, organizations believe the volume of information will grow from X to 4.2X.
This continuous growth translates into an increasing amount of information chaos as traditional approaches to information security are failing to address the sheer volume of information. As a result, information security risks are dramatically increasing.
But, all hope is not lost. Download this FREE infographic to learn about the 5 key elements of an effective information security strategy and your 4-step plan to put it all into action.