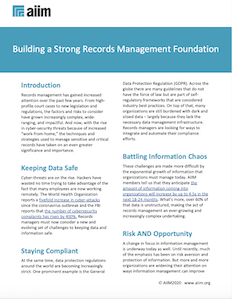 There's a change in focus happening now in information management. Until recently, much of the emphasis on managing records and information has been on risk aversion and protection of information. The focus was to lock down information to protect it and meet the compliance requirements of data privacy regulations like GDPR and CCPA.
But more and more organizations are widening their attention on ways information management can actually improve the performance of the organization. Unlocking information as a useable asset to drive better customer service, seamless workflows, and more. In fact, 58% of AIIM members said they want to move from simply mitigating risk and cost to creating organizational value.
How do you move from the traditional notions of what it means to manage records and information? How do you strike a balance between risk and opportunity? It starts with a strong records management foundation. Download this free tip sheet that provides the basis to move your efforts along the information management value chain, including:
Keeping data safe and staying compliant
Battling Information Chaos
Three Best Practices
Get your copy today to explore this, plus a featured case study on SEI Investment's transition of more than 10 million documents to the cloud.