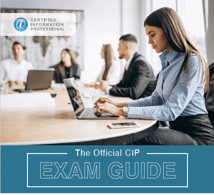 Are you considering a certification in information management, but are unsure which designation is right for you? Your friends at AIIM want to help ensure you make the right call.
We've designed this comprehensive free guide based on the frequently asked questions we've had from over a thousand successful CIP exam takers. Included in this 38-page guide is all of the information you need to decide if the CIP is right for you, and answer all of your questions about the exam and certification, including:
What is the CIP?
What is the value?
Is the CIP right for me?
How do I prepare for the CIP?
No matter where you end up on your certification journey, you'll be glad you started with this guide!