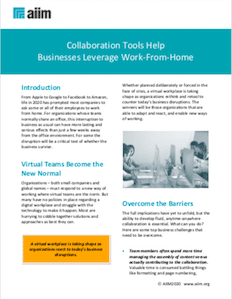 Whether planned deliberately or forced in the face of crisis, virtual workplaces are taking shape as organizations rethink and retool to counter today's business disruptions. The winners will be those organizations that are able to adapt and react, and enable new ways of working and collaboration.
The full implications have yet to unfold, but the ability to develop fluid, anytime-anywhere collaboration remains essential.
In this FREE tip sheet, we explore collaboration in the work-from-home environment, including:
What can you do to safely collaborate anytime-anywhere?
What are top business challenges that need to be overcome?
What technology features and functionality are needed?
Underwritten by: