Three tips to help ensure success with your next project requiring complex collaboration.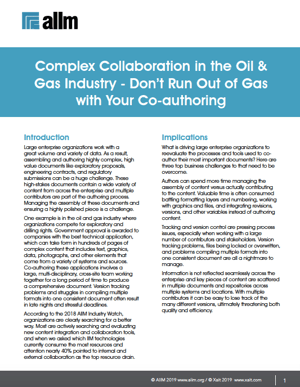 In the oil and gas industry, organizations compete for exploratory and drilling rights through an application process. With Government approval on the line, a seamless application is the key to ensuring success.
However, "seamless application" is often easier said, than done. Especially when you consider what it takes to put together one of these complicated applications:
Lots of Complex Content: Hundreds of pages of complex content that includes text, graphics, data, photographs, and other elements that come from a variety of systems and sources.
Lots of Players: Co-authoring these applications involves a large, multi-disciplinary, cross-site team working together.
Lots of Time: A long period of time is needed to produce these comprehensive documents.
When you add it all up, it's no wonder that version tracking problems and struggles with compiling multiple formats into one consistent document often result in late nights and stressful deadlines.
But, there is an easier way to fuel your co-authoring through a database-driven approach. If you're ready to leave the headaches of complex co-authoring behind you, download this FREE tip sheet to learn about a database-driven approach to co-authoring and three tactics to transform your strategy.