Proof of Concept – Can this idea be turned into a successful reality?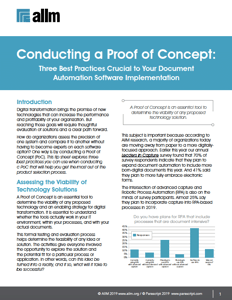 Reaching your Digital Transformation goals will require thoughtful evaluation of solutions and a clear path forward. But, how are organizations expected to fully assess the precision of one system/solution and compare it to another? Are we expected to become experts on each software option? If you're wondering if there is a better way - there is. The solution is to conduct a Proof of Concept (PoC).
A Proof of Concept is an essential tool to determine the viability of any proposed technology and an enabling strategy for digital transformation. It is essential to understand whether the tools actually work in your IT environment, within your processes, and with your actual documents. This formal testing and evaluation process helps determine the feasibility of any idea or solution. The activities give everyone involved the opportunity to explore the solution and the potential fit for a particular process or application. In other words, PoC helps your organization answer this important questions:
Can this idea be turned into a reality, and if so, what will it take to be successful?
This tip sheet explores three best practices you can use when conducting a PoC that will help you get the most out of the product selection process.