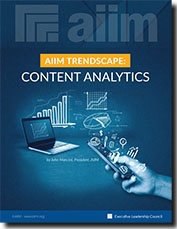 There are decades in which nothing happens and there are weeks in which a decade happens.
This latest Trendscape report captures the thoughts and directives of AIIM's own think tank, the Leadership Council, as they explore the topic of content analytics and its impact on the industry over the next couple years. Understand the obstacles to content analytics adoption, gain insight from early adopters, and learn what you should do today to plan your own organization's content analytics objectives and goals.
Read more here in this FREE report.