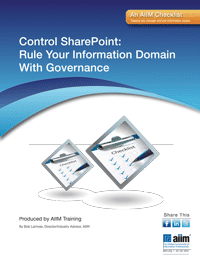 Does Your SharePoint Lack Governance?
Technology alone will not allow you to rule over your information domain properly.
In order for you to establish and maintain control, there must be rules and procedures that everyone is trained to follow. Think of SharePoint as a toolbox designed to help build your infrastructure and think of governance as part of the framework you need to succeed.
Get the SharePoint checklist and learn how to best manage your SharePoint strategy.