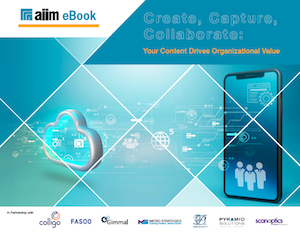 Get an in-depth look at the first step of Intelligent Information Management (IIM) where it's all about your content – creating it, capturing it, and collaborating with it.
Often referred to as the onramp for the downstream processes that follow - getting this step right means setting the right foundation to make the subsequent IIM steps to leverage your information easier. The goal of this stage is a flexible and modular approach that utilizes content and information wherever and whenever it is needed, independent of where it is stored.
But, the name of the game is changing! In this ebook, we take a deeper look at eight key changing business drivers that are impacting this crucial first step in the information lifecycle, including:
The Shift In Capture Strategy
Growing Privacy and Security Concerns
Improving Downstream Processes
Leveraging Artificial intelligence (AI) and Machine Learning (ML)
Fully Optimizing Robotic Process Automation (RPA)
Dealing with Overflowing Silos
The Extension of Content Services to the Cloud
Rethinking Remote Work, Remote Workers, and the Systems to Support Them
See how your peers in a variety of industries are pivoting to meet these new challenges and rising to new levels of content management excellence.
Click through for a preview of what's inside: