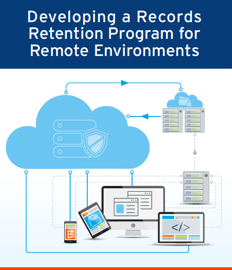 Information governance has become an evolving challenge. On one hand, we're facing the obstacle of increased volume, variety, and value of our business information.

On the other hand, brand new challenges have risen up in response to the global pandemic, as many offices have moved remote.
Arguably, information governance has never been more important than now!
In this infographic, explore how a records retention program designed to meet the needs of your remote work environment can help. Get your FREE copy to explore:
The Next Generation Information Governance
Four Steps to a Records Retention Program
Key Questions for Moving Forward