You may not be in the Fortune 500, but you can win big with your Digital Transformation efforts - no matter your company size.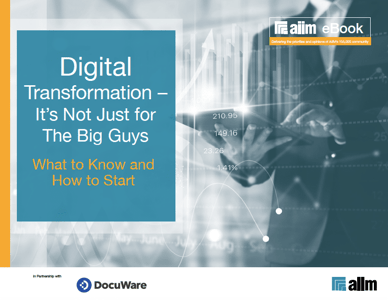 The notion of "digital transformation" is on the minds of business owners and executives from all industries. The transformative promise is one that leads the organization to new efficiencies and competencies that streamlines operations, provides better customer experience, and saves money.
And while becoming a digitally-enabled organization may seem like it is a reality for only the largest and most technologically savvy organizations, more and more small- and mid-sized businesses are grabbing their share of success by employing the latest innovations in things like business process automation, machine learning, and analytics.
Download this FREE ebook to learn how even the smallest business can enjoy the big impacts of digitally transforming, with a complete overview of digital transformation for small to mid-sized businesses, including:
Tackling the challenges of Digital Transformation unique to your business
Three areas where you can find immediate benefit
Recommendations and ways to move forward
Underwritten by: