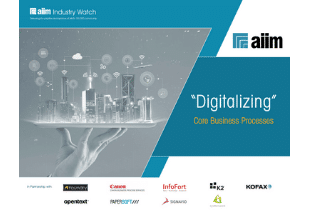 Regardless of the type of business, digital transformation is the new reality that is taking place whether they realize it or not, and the need to digitalize their core business processes is imperative to remain competitive.
The best approach in addressing this transformation is to view it as a journey from the current ways of doing business to a new digital state, based on intelligent information management (IIM) practices that integrate people, process, information and technology in support of achieving greater operational efficiency, meeting regulatory and legal compliance, enabling more agility to change, and enhancing the customer experience.
In this report we explore what steps businesses are taking to digitalize their core business processes, the challenges they face, and what their plans are going forward.
Find out with this FREE Report.