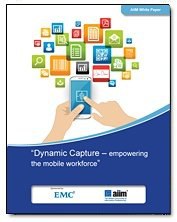 Regardless of the business focus, whether banking, insurance, healthcare, government or some other vertically focused sector, capture is an integral part of operational processes and should be accomplished at the leading edge of the process and first touch point with content. This applies not only to the capture and conversion of physical content, but also digitally born content.
In this paper, we explore the use of capture and workflow functionality in support of collaboration, process management, and information governance leveraging capture capabilities at the leading edge of a process.
Click the orange button below to get your free copy.