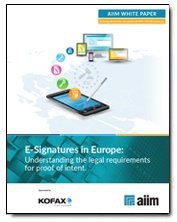 Effective July 2016, the new EU regulation on electronic identification and trust services 910/2014 – typically referred to as eIDAS - goes into force. It is designed to propel digital transformation a as a major corner stone for a Digital Single Market in Europe. One of its major goals is to fuel e-Signature adoption in Europe by largely replacing 28 nation laws on e-Signatures.
eIDAS comes with new options to go digital with both identification and signing processes. The ability to expand the use of electronic signatures is particularly beneficial for businesses running multi-national operations across multiple channels.
Download this eBook for an insight about eIDAS impacts, explanation of new options and best practice examples of trustworthy e-signing in Europe.