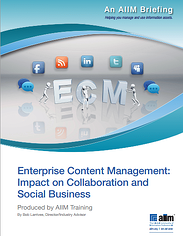 This "How To" White Paper will help you:
Understand the challenges that you will encounter as you move towards a more collaborative environment, both in terms of technology and culture.
Embrace governance and ensure that your environment is meeting your business requirements and best practices.
Identify the opportunities provided by adding additional collaborative elements to your ECM platform.
List and explain the technologies that can be used to enhance collaboration across the enterprise.