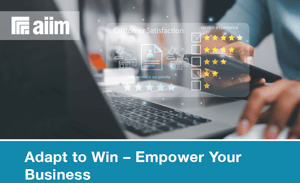 Earlier this year, we once again asked AIIM community members to grade their organizations when it comes to executive alignment between information management/governance strategies and business strategies.
We probed the different mindsets and approaches of those who have remained at the status quo or worse and those who have seen improvement. What was the magic ingredient that made for success? It was Customer Experience (CX). Over one-third of organizations surveyed in the AIIM 2022, State Of The Industry Report said that enriching customer experience in all aspects of the business is the most important ingredient of their digital transformation strategy.
Download this free brief today to take a deeper dive into why organizations must adopt systems and strategies that directly influence and improve customer experience.
Underwritten by: