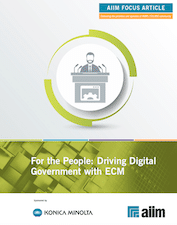 "I want us to ask ourselves every day, how are we using technology to make a real difference in people's lives." – United States President Barack Obama
Government agencies worldwide are under increased pressure to digitally transform their key processes, critical operations, and delivery of services to best meet the needs of the people—both private citizens and government workers. However, a large number of national governments and local municipalities are out of step with digital directives and remain anchored to paper-based processes and operations.
In this focused article, we turn a critical eye to government agencies working at the speed-of-paper, and take a look at how content and information management solutions serve public citizens, government workers, and government interests by cutting down on response times, removing collaborative boundaries or restrictions, improving security, heightening operational awareness, and reducing costs and inefficiencies.
Learn about:
The current political climate in relation to paper-free enterprise
Effective digital strategies being used in government agencies today
Best practices and recommendations