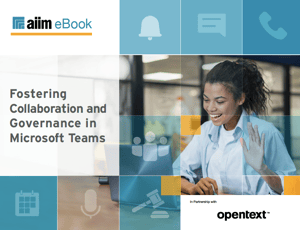 Microsoft Teams launched in 2017 and quickly became a trusted collaboration tool, offering users a tight mix of video-conferencing, chat, and file-sharing capabilities in a single package. Fueled by a rush to remote work, Teams usage skyrocketed to now over 145 million users.
But, many organizations have overlooked the information that's now being created, shared, and stored within the Microsoft 365 environment in their information governance strategies and practices. This common scenario creates a risk of unmanaged information and the opportunity cost of missing a huge part of your information ecosystem.
Download your copy of this FREE ebook for an examination of the Microsoft Teams environment from an information management perspective. You'll learn about:
Steps to take to maximize your productivity from Microsoft Teams while retaining control and governance.
Opportunities for creating structure around Microsoft Teams without sacrificing benefits.
Approaches that marry collaboration tools with processes that improve business outcomes, regulatory compliance, and reduce information risk.
It is essential to recognize that the information created, shared, and stored within your M365 environment is a critical component of your information governance and intelligent information management strategy.
Underwritten by: