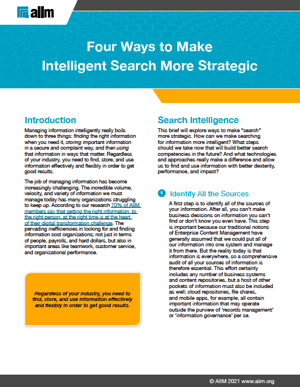 Managing information intelligently really boils down to: finding the right information when you need it, storing important information in a secure and compliant way, and then using that information in ways that matter.
Regardless of your industry, you need to find, store, and use information effectively and flexibly in order to get good results.
Download your copy of this tip sheet to explore ways to make your "search" more strategic, including:
How can we make searching for information more intelligent?
What steps should we take now that will build better search competencies in the future?
What technologies and approaches really make a difference and allow us to find and use information with better dexterity, performance, and impact?