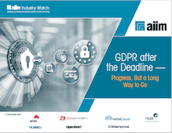 On May 25, 2018 arguably the biggest data privacy regulation we've seen in years was enacted. General Data Privacy Regulation (GDPR) set in motion a mad compliance and security scramble not only for European companies, but also for any company doing business in Europe or with European customers.
But, now that the dust begins to settle around the regulation, we set out to find out...What's life like after the deadline?
In this FREE report, we look at the following key issues related to GDPR:
How do organizations view the emerging challenges tied to information privacy and security, and whom have they charged with this task?
Where are organizations in their GDPR journey and how much did they spend to get there?
How do they assess their progress in meeting the core requirements of GDPR?
What kinds of special pain points does unstructured information (i.e., content) raise in GDPR compliance efforts, and which core IIM technologies do organizations see as critical to their efforts?
Find out with this FREE Report.