Adding Intelligence to the way we manage information.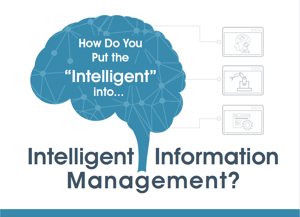 What does it mean for your Information Management to be Intelligent? In this FREE infographic, we explore this question with a look at how integration, automation, and intelligence capabilities can be used to connect people, processes, and content across organizations—and with customers and other business partners. Learn about:
Moving Content Management to the Cloud
Improving Customer Experience
Enhancing Employee Engagement
Tightening Supply Chain Management
Safeguarding Information
Automating Processes
Fill out the form to get this FREE infographic and learn about these essential elements of Intelligent Information Management and AIIM's recommendations and best practices to consider.
Underwritten by: