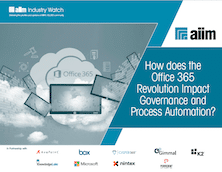 There is something significant going on with Office 365. In fact, consider these interesting statistics:
Millions of Users: There are over 120 million Office 365 commercial monthly active users.
Crazy Growth: The percentage of organizations running SharePoint Online rose from 22% in 2016 to 56% in 2017.
Cloud Domination: 58% of sensitive data in the cloud is stored in Microsoft Office documents.
And It's Only the Beginning - More than half of all commercial (business) Office users are using Office 365 rather than standalone/perpetual Office and Microsoft is expecting two-thirds of its business Office customers will be using Office 365 in 2019.
Those stats are enough to make anyone perk up and take notice! But as information professionals, we're focused on what this all means for the way we manage, store, and protect all of our information. In fact, it raised some interesting questions, including:
How far is adoption of the Office 365 stack extending beyond email, and what issues are organizations considering in this decision?
What factors are influencing the decision to migrate to SharePoint Online — and when not to? What issues are organizations encountering in their migrations?
How are organizations addressing governance questions in Office 365 and in hybrid on-premises/cloud environments?
How are organizations making the decision when to leverage Microsoft process and governance capabilities vs buying 3rd party solutions?
In this FREE report, we explore each of these questions and dig deeper into what the Office 365 revolution means for information management.