Learn how co-authoring takes file sharing to the next level for complex document collaboration.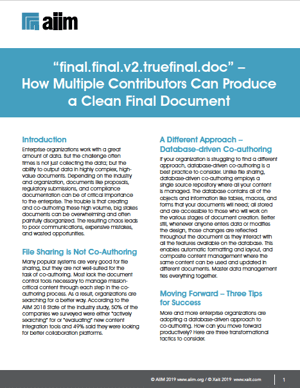 We've all seen the common pitfalls of collaborating on a document with multiple authors - inconsistent fonts, formatting issues, version confusion, and more.
Depending on the industry and organization, documents like proposals, regulatory submissions, and compliance documentation can be of critical importance to the enterprise. With these high-stakes documents, disorganization leads to poor communications, expensive mistakes, and wasted opportunities.
If your organization is struggling to find a different approach, download this FREE tip sheet to learn about database-driven co-authoring and how it can cure your document collaboration headaches.