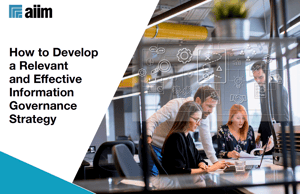 The AIIM community has long connected the excessive amount of information flowing into our organizations with the risk and cost it carries. That's why the "language" spoken by the Information Governance (IG) community has largely been punctuated by fear, uncertainty, and doubt.
As a result, business executives – known for playing the negative lottery – have treated IG as a cost of doing business and seemingly unconnected to strategic efforts around innovation and growth. Even the rising attention paid to personal data privacy and protection has largely failed to change the perception that information governance practices typically lack the ability to influence decisions around data-first and customer-first strategies over the long term.
Recent AIIM research within the IG community confirms that only 11% of employees enjoy the organization's and executives' full commitment and support.
Clearly, it is difficult to avoid discussing risk and compliance in highly regulated industries. Download this eBook today to explore more on this essential topic.