While the cloud offers many compelling benefits, the reality is that most organizations will use a hybrid approach.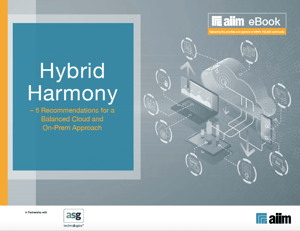 Despite the compelling possibilities, it's just not realistic to assume that organizations will wholly replace their current in-house content repositories overnight in favor of a cloud-only approach. Instead, many are moving to a hybrid approach to leverage the best of both worlds in what could be called a mash-up of on-premises and off-premises resources. When balanced, this hybrid approach unlocks many advantages, including:
Allowing workloads and data to move between private repositories and public clouds
Improving flexibility and options for content deployment and use
Becoming more agile to meet changing demands, needs, and costs
How do you unlock Hybrid Harmony to ensure seamless access to information no matter where it is located? Find out with this FREE ebook with 5 recommendations to help balance your approach.